It is always difficult to choose what to do and see in a city. Here are 12 must-see things to do and see when visiting Vienna for the first time.
I'd been wanting to visit Vienna for many years. I pictured it in my mind as an elegant city, romantic and sumptuous, with both an old-world charm and a modern feel.
In short, my expectations were sky-high, so there was a big possibility that I would be left disappointed.
And yet, the real thing exceeded all my expectations: I was looking forward to an elegant and sumptuous city full of antique charm, but I was still left mouth agape before every building, every house, every balcony, and window.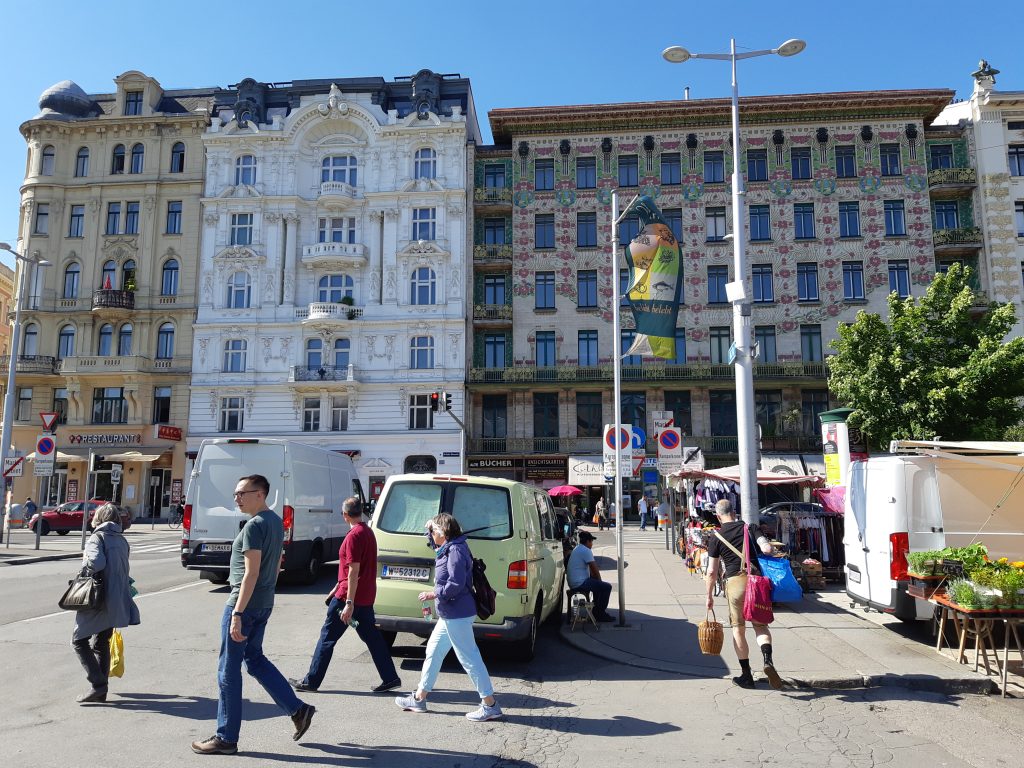 I was expecting a city with a modern atmosphere, but what I found was a culturally vibrant city, an inclusive one, ready to welcome everyone with the music that reverberates from its streets at all times of the day, when you least expect it.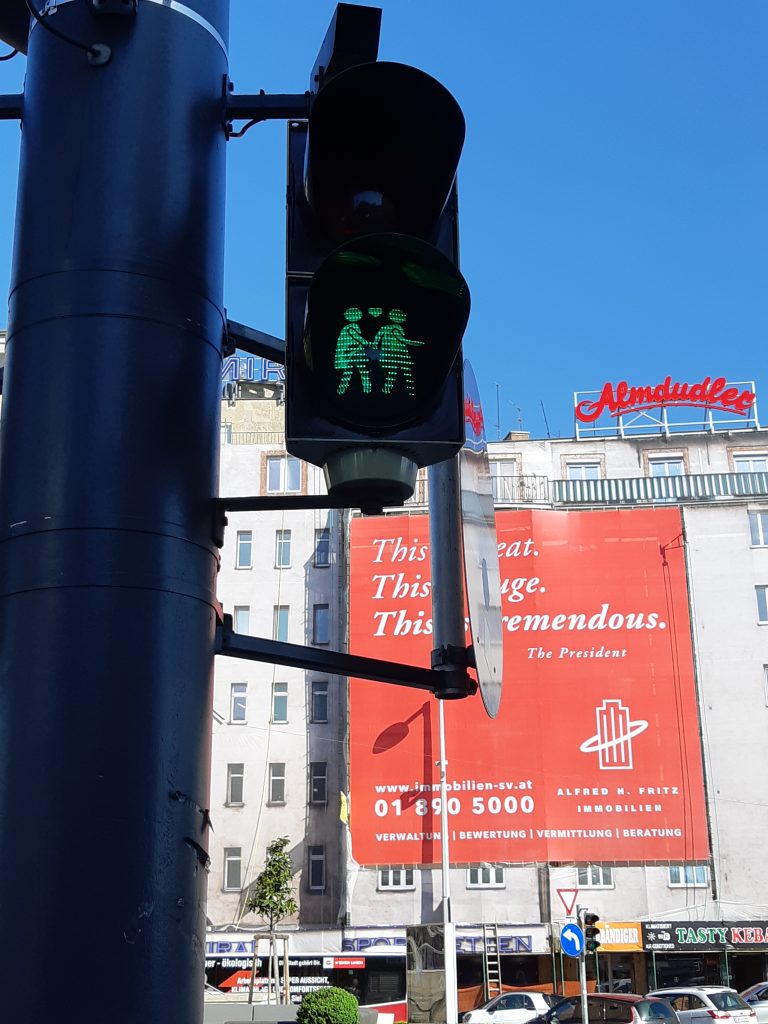 I thought I'd be eating nothing but wieners, schnitzels, and Sachertorte, but what I found was an extremely generous range of choices, even for vegans and vegetarians as well as those with food sensitivities.
And yes—it's also a very romantic city, maybe even more romantic than Paris, but with an intriguing underground side.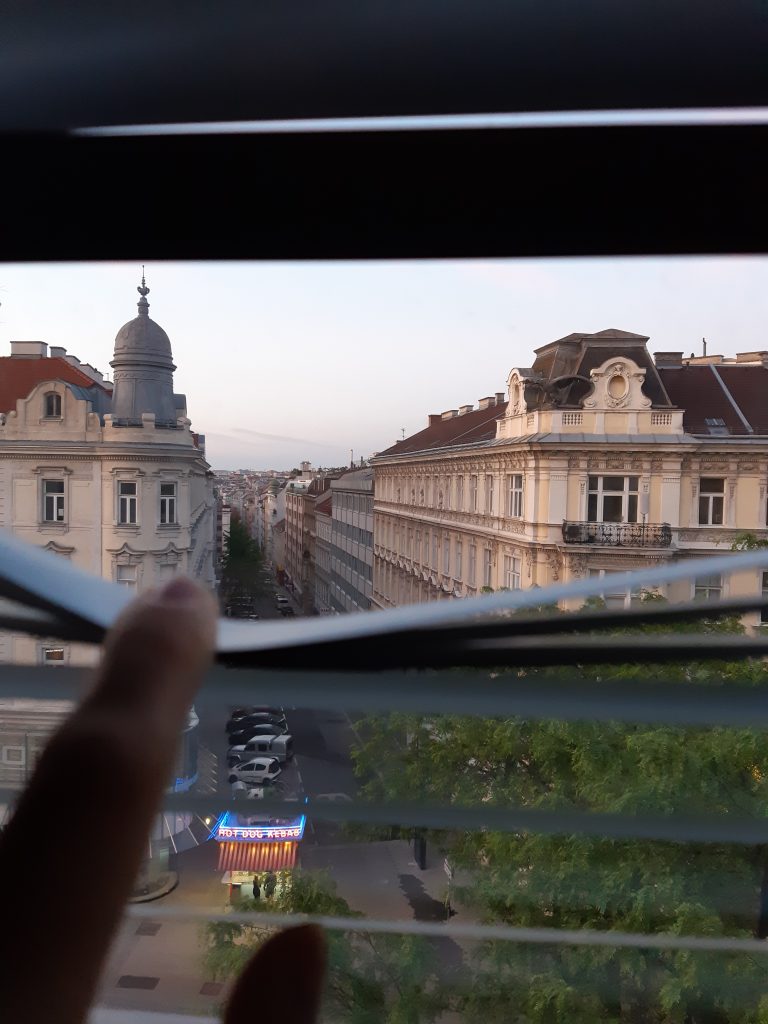 It's always difficult to squeeze in everything you want to see when you're visiting a city for the first time, especially one as beautiful as Vienna: you want to do everything and you try to plan everything, but it's also great to let loose and improvise, and let yourself be surprised by events.
Here is a list of the things I saw and did during my four days in the Austrian capital.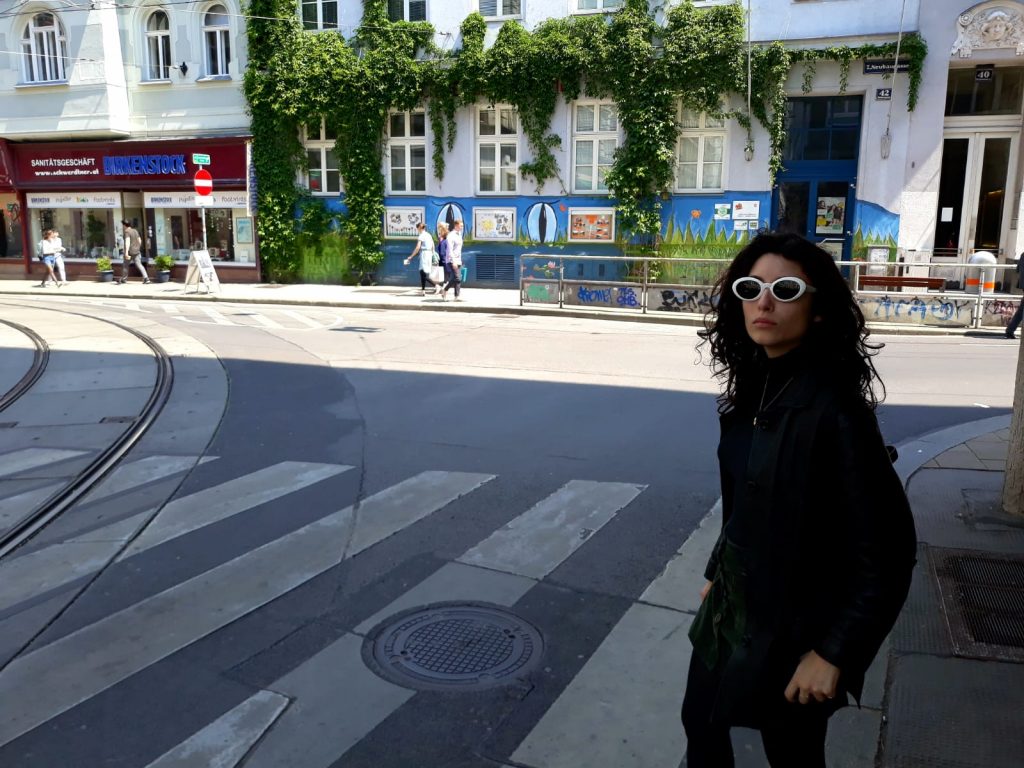 1. Schonbrunn Palace (with the bus city tour)
Schonbrunn Palace is exactly as I imagined it: opulent, majestic and stunning. What I hadn't imagined was the enormity of the gardens, to say the least: there are fountains of all shapes and sizes, greenhouses with flowers, mazes, monuments, hills to climb and a lookout from which you can admire the city from above and the palace in all its glory.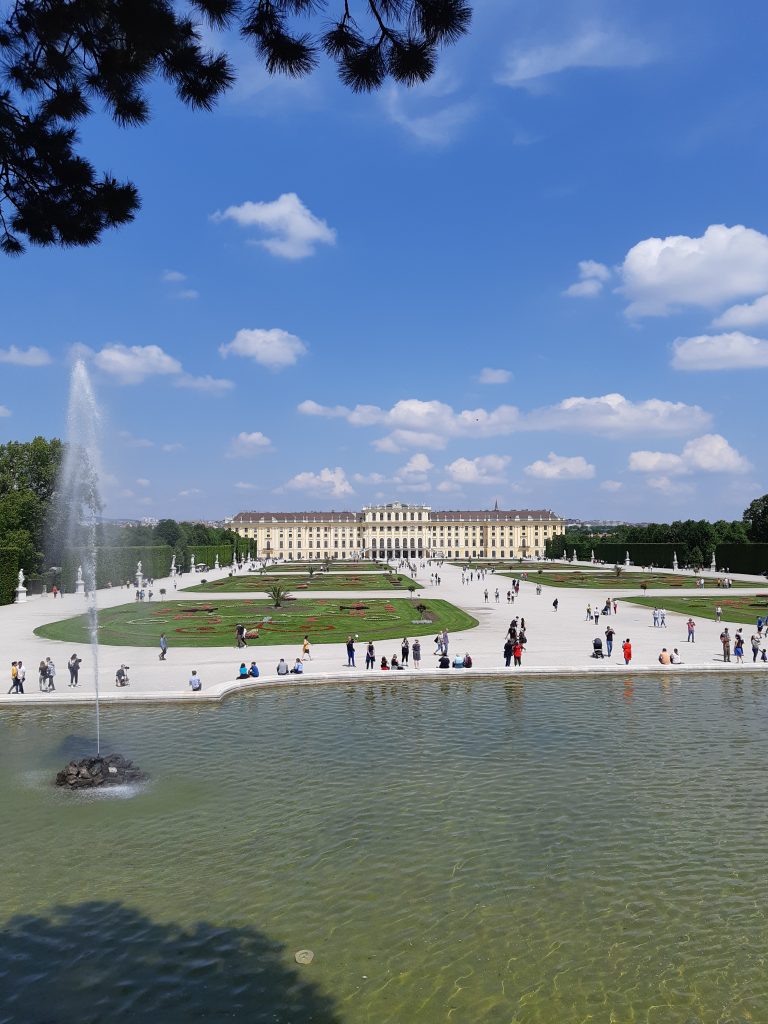 Some practical advice: many guided tours of Schonbrunn are available, and if you're interested in art and history, I'd suggest you pick the one that lasts the longest and is the most thorough. You can also reach the palace via a bus tour that culminates at Schonbrunn: this is ideal for getting a more fully rounded view of Vienna, and also for seeing places and neighborhoods that were probably not very high on your list, especially if you're staying just for a few days. Not to mention you'll also learn some fun facts: did you know that Queen Elizabeth would bring tea with her from London whenever she visited Vienna? Me neither.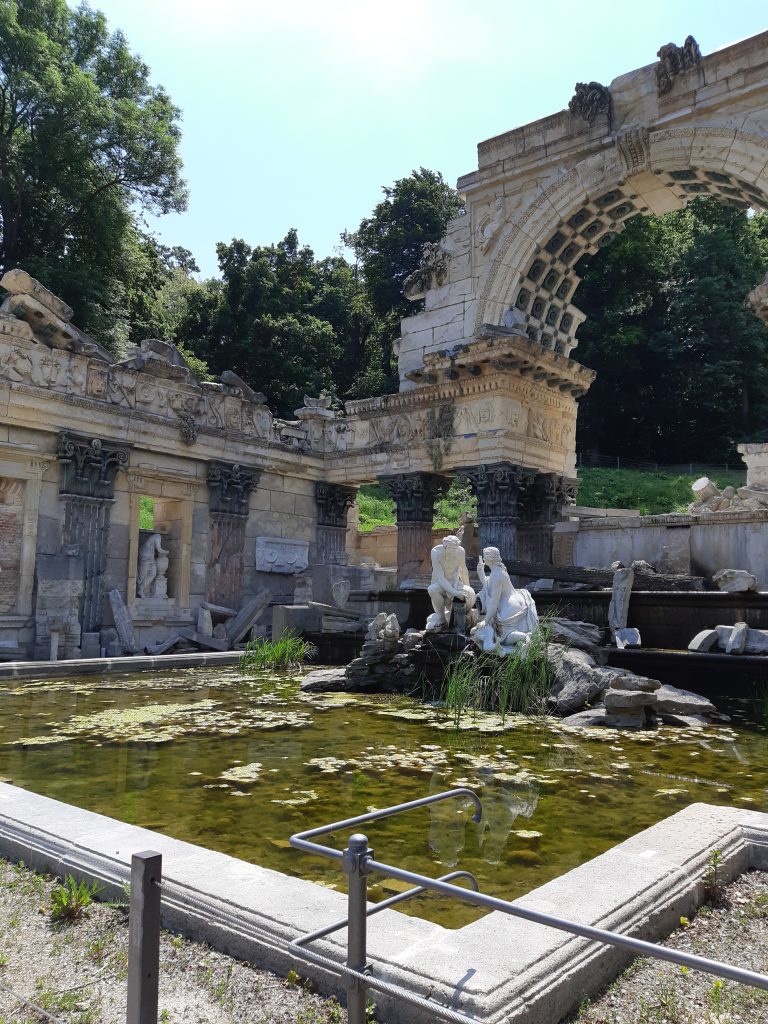 If you decide to take the bus, don't leave any of your belongings on board, so you can be free to enjoy the gardens for as long as you want after the palace tour. Last but definitely not least: in no way, shape or form should you ever try the sandwiches they're selling in the palace cloisters: they're terrible, and the packaging doesn't even list all the ingredients (which means that you may find yourself with a big pile of boiled onions and eggs in what had appeared to be a regular cheese sandwich). Instead, the restaurant found just beyond the main gate is great for a stopover—particularly for a portion of their excellent banana cake with chocolate.
2. St. Stephen's Cathedral
A magnificent Gothic cathedral, which I was lucky enough to visit during a gospel concert when it was decorated with contemporary art installations. One of its most distinctive features is the roof, which is covered in colored tiles that form the shape of an eagle. The fact that it has become dirty and blackened over the centuries only makes it even more fascinating.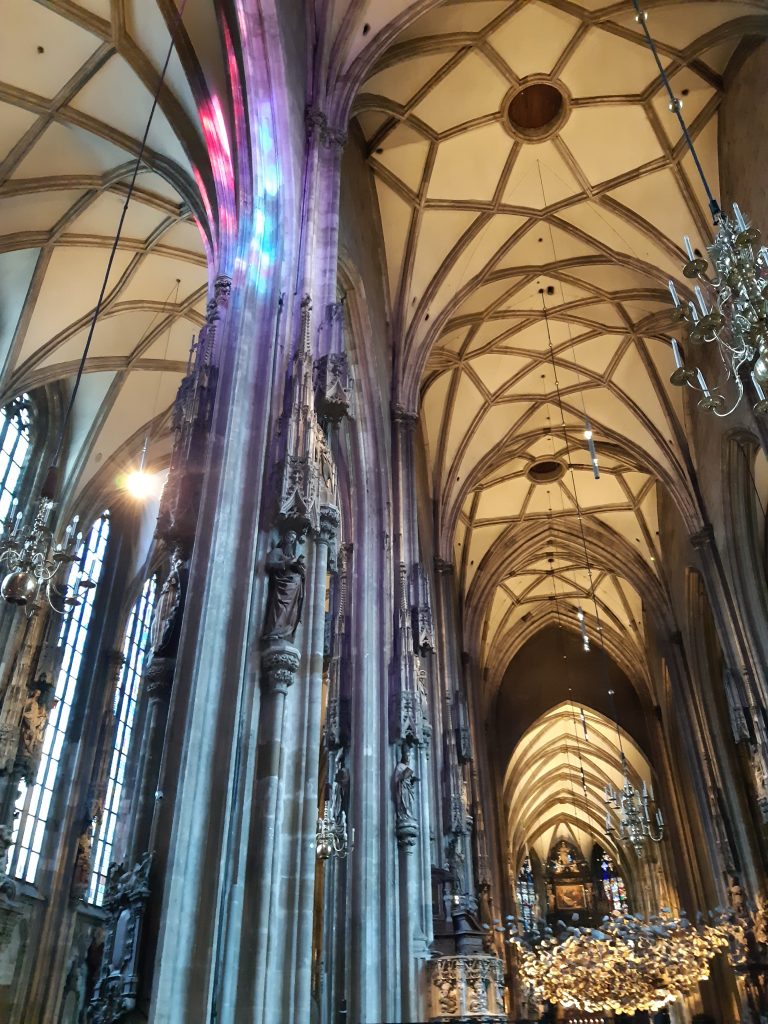 3. The Secession Building
The Secession Building is where that heroic episode in Viennese history began. It's beautiful from the outside, with its dome in the shape of a tangle of golden flowers. The interior of the museum is minimalistic, and you can admire Gustav Klimt's famous "Beethoven Frieze" on the lower floor. There are also beautiful paintings of the Viennese Secession by other artists who are less well known—which in itself makes them all the more interesting.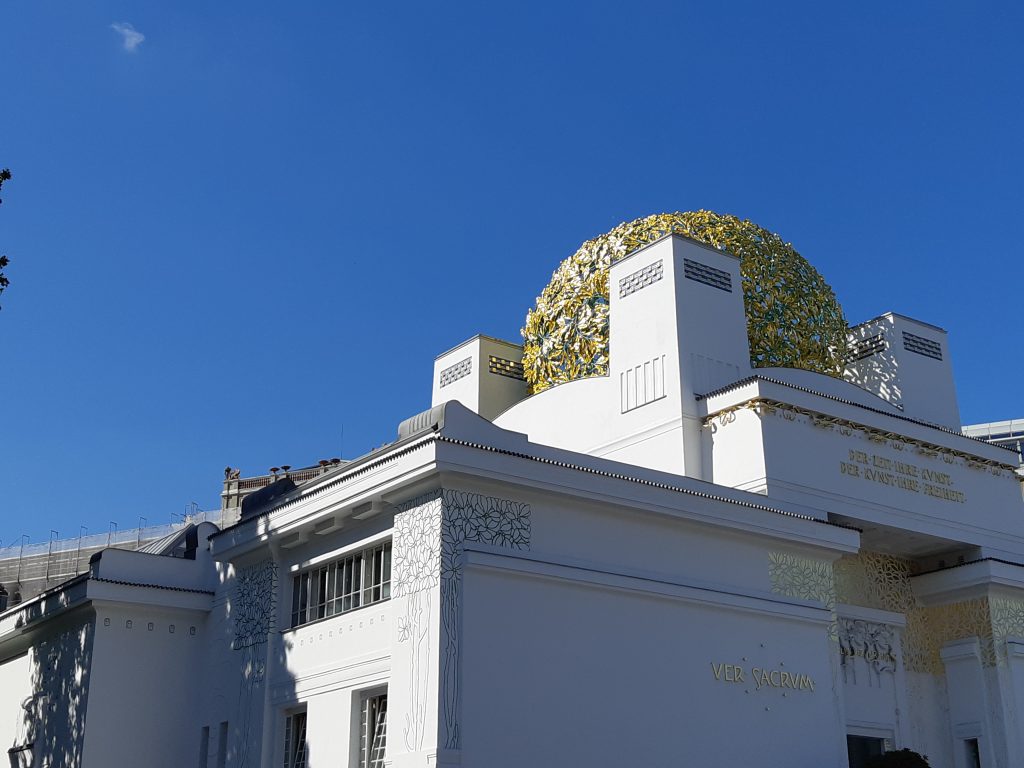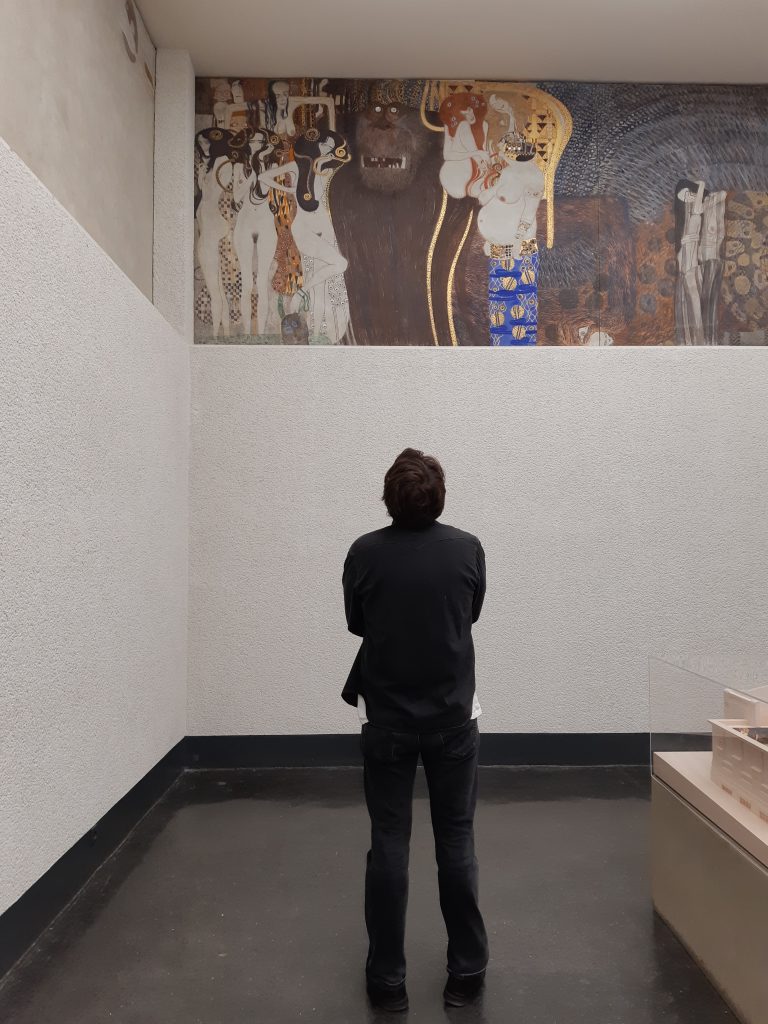 4. The University
I happened to pass through here as I was heading towards the Sigmund Freud Museum, set up in Freud's old house (which unfortunately was closed for renovations, and will remain closed for another year). Like any edifice in Vienna, the building is truly majestic. It has vast staircases, ancient windows and a beautiful garden full of trees under which you can sit and study, as well as a bar and deck chairs for students who aren't in the mood for academic matters. When I was there, the University was preparing for Pride Month, with scheduled lectures, talks and conferences on Gender Studies and queer culture.
caption id="attachment_36550″ align="aligncenter" width="768″]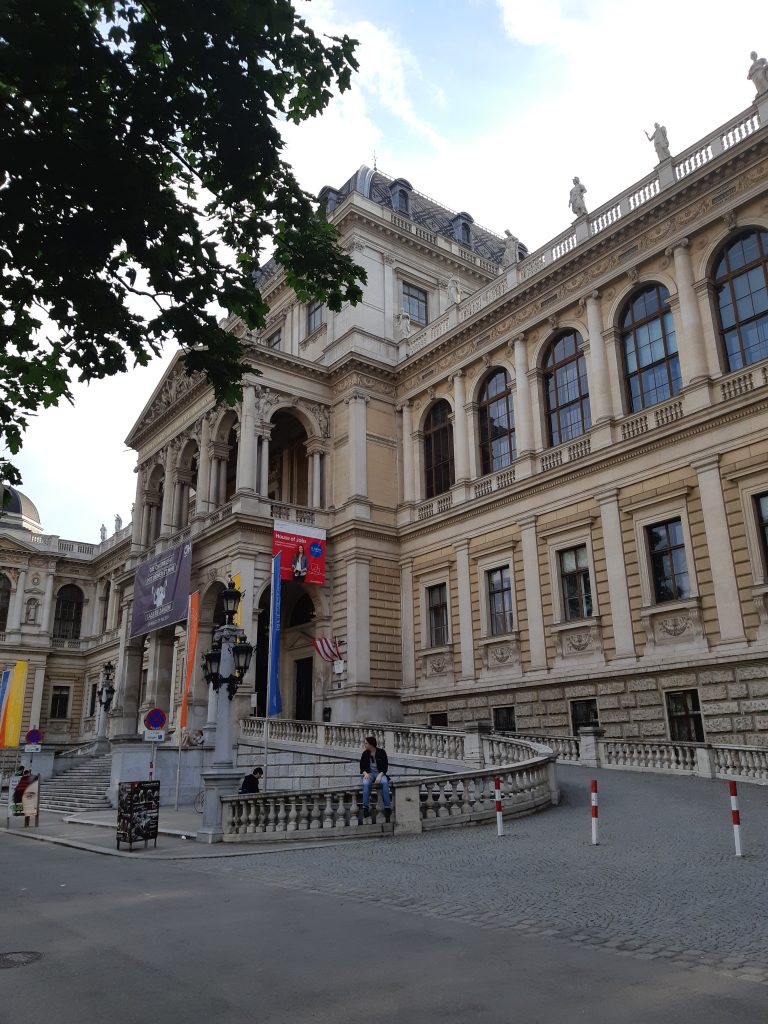 The University of Vienna[/caption]
5. Cafè Sperl
Vienna is just as famous for its cafes as for its Sachertorte. They are elegant and well-preserved, so you only need to step inside to go on a journey into the past. Cafè Sperl also has a great pool table, as well as several vegetarian options on the menu.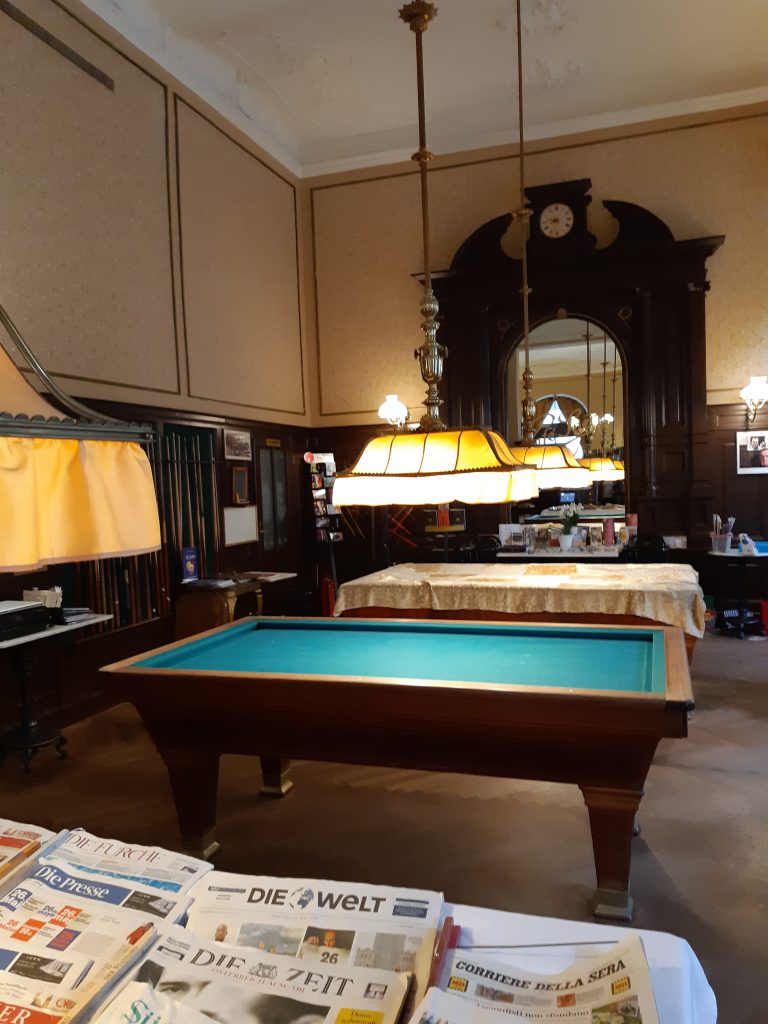 6. The Danube
The famed "Blue Danube" itself is located almost at the edge of town, but an offshoot of the great river cuts straight through the city: across this waterway, you'll find the most modern part of Vienna and the Jewish Quarter. Along the riverbank and under the bridges you'll find establishments with hammocks and decks, perfect for relaxing and sunbathing, walls decorated with murals, and often also stalls and stages set up for small local music festivals.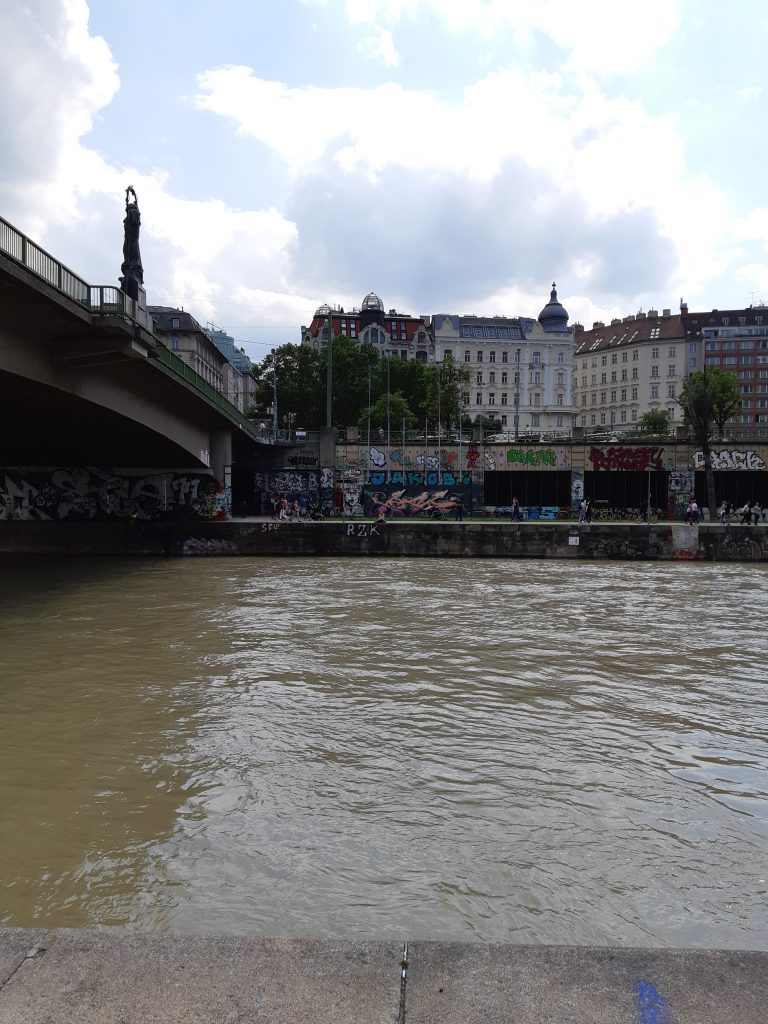 7. Naschmarkt
My passion for markets and bazaars of every kind is an open secret, so it's no surprise that the Naschmarkt was the first attraction I visited in Vienna. It's the largest market in the city, dating back to the 16th century, and it's framed by elegant Art Nouveau buildings. You'll find flowers, fruit stalls, vegetables, spices, and charming establishments that come alive after sunset with cocktails, music and typical local dishes.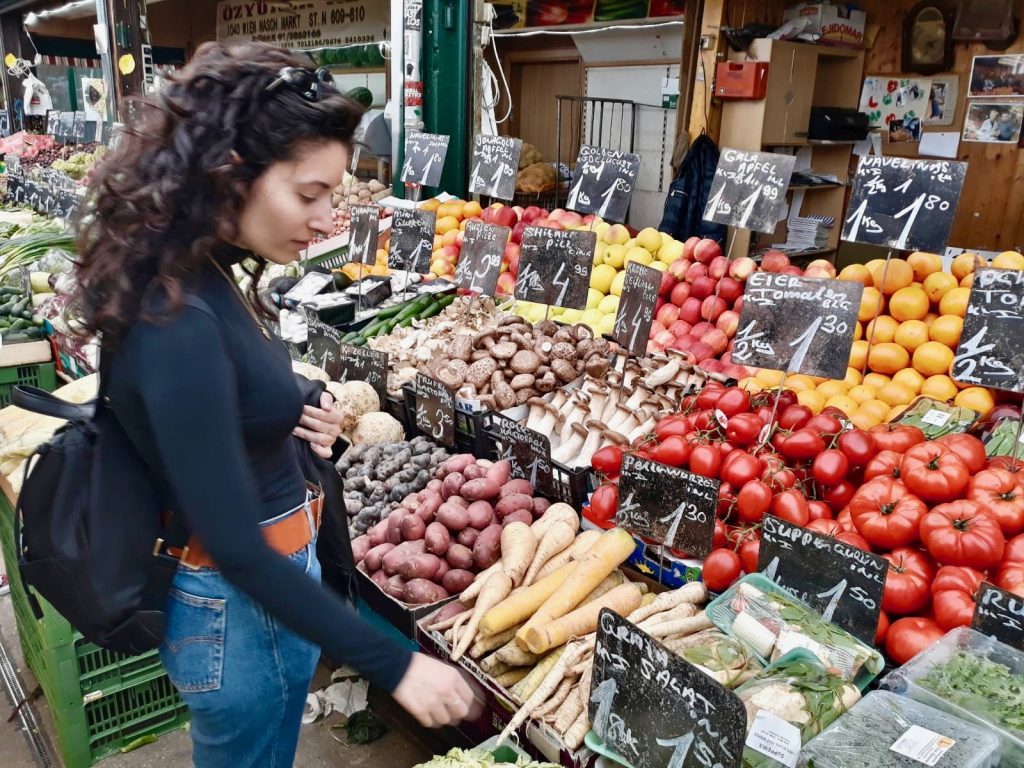 8. The Leopold Museum
The Leopold Museum was one of the most interesting I had ever visited. Its collection houses the works of Austria's most important artists. I was enchanted by the works of Egon Schiele (who has always been one of my favorite artists), Sergius Pauser and Kokoschka (of whom I knew very little). The rooms containing the Art Nouveau design exhibits are also gorgeous.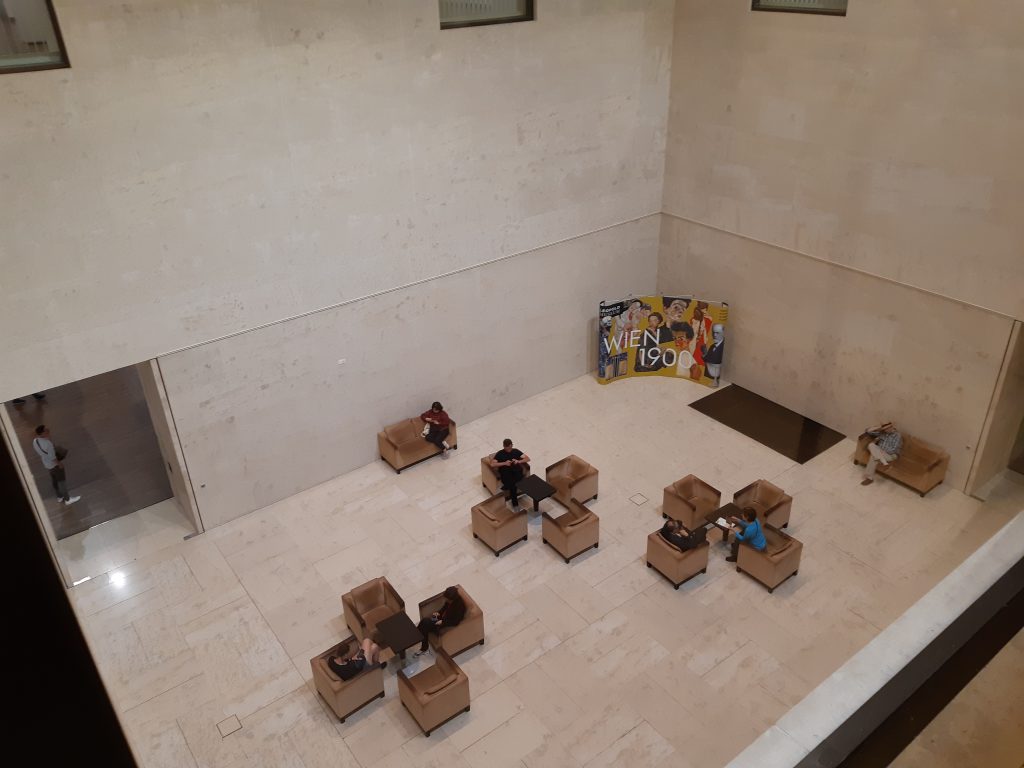 9. The Volksgarten
Vienna is full of parks, and the Volksgarten is one of the most iconic. To get there from the Leopold Museum, you'll have to go through Maria-Theresien-Platz, where you'll see the statue of Maria Theresa of Austria, the Museum of Fine Arts and the Museum of Natural History. Inside the park are the Museum of Ethnology and the Butterfly House while the Parliament and the Burgtheater lay just outside.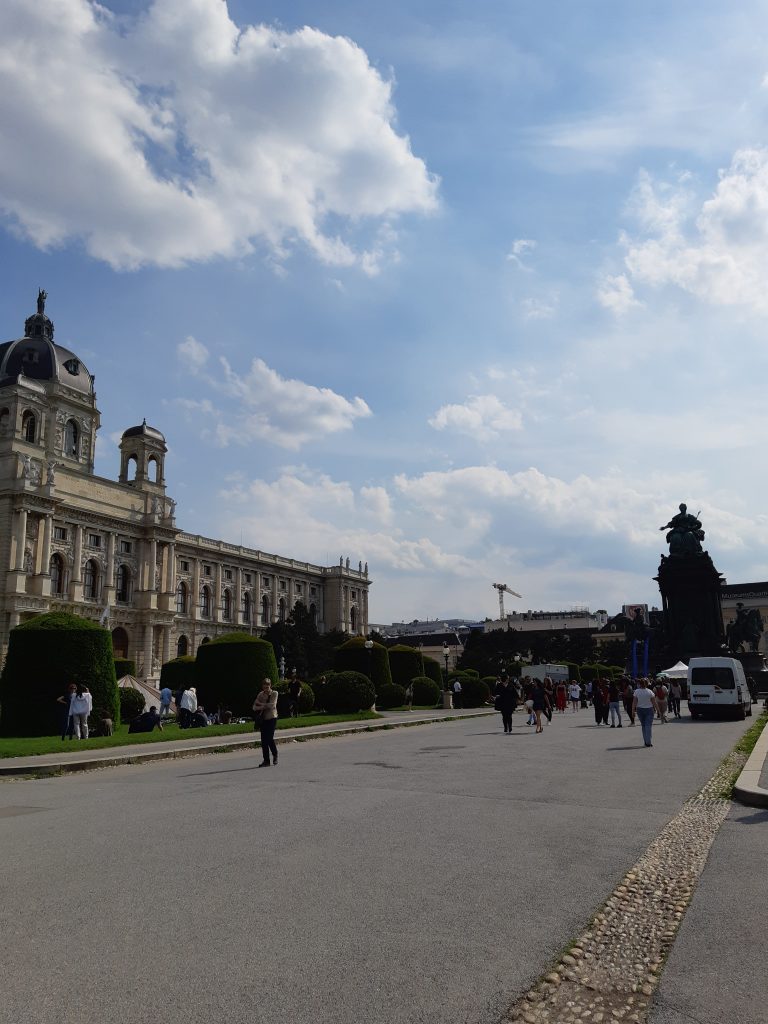 10. The Opera
Since we're on the topic of theatrical performance, the Vienna State Opera is one of the most prominent such institutions in the world. If you have the chance, I'd recommend that you get tickets to see a show—or you can just take a seat outside, on the right side of the building, where you can see the opera performances for free thanks to the giant screen.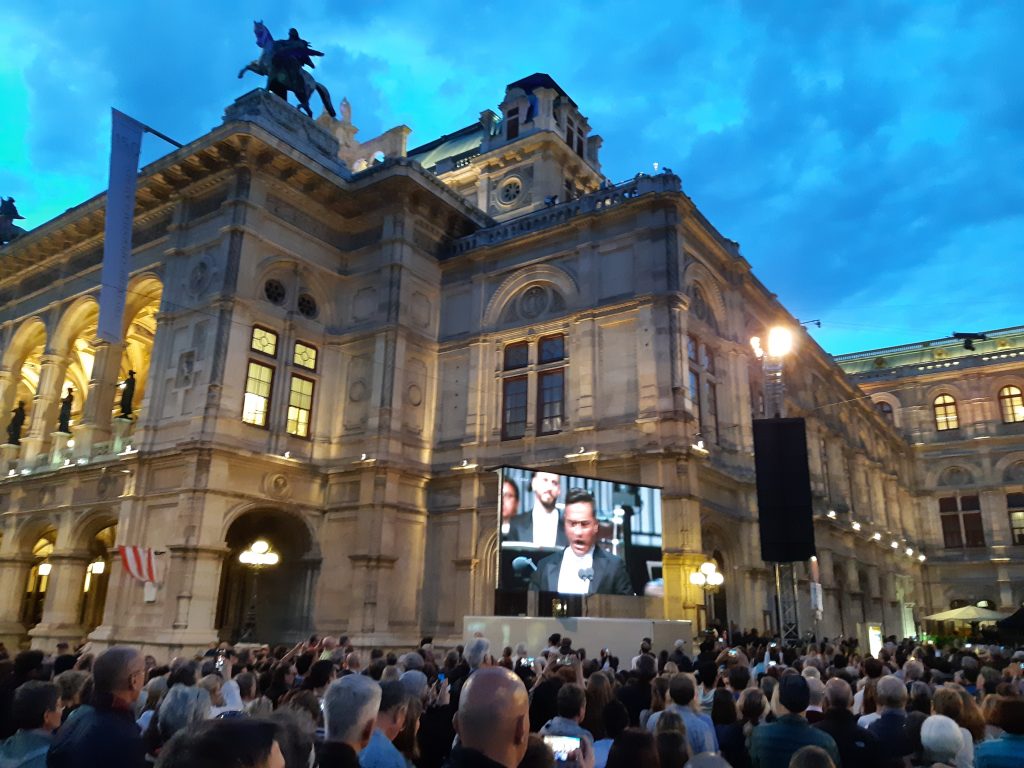 11. The Kebab
Just like in Berlin, eating a kebab in Vienna is a must. I asked around about the best such establishment in Vienna and ended up at the Berliner Doner: my kebab had expertly spiced meat—and quite a lot of it—but also plenty of fresh raw vegetables, all wrapped into a considerably sized soft flatbread. Address: Zieglergasse, 33A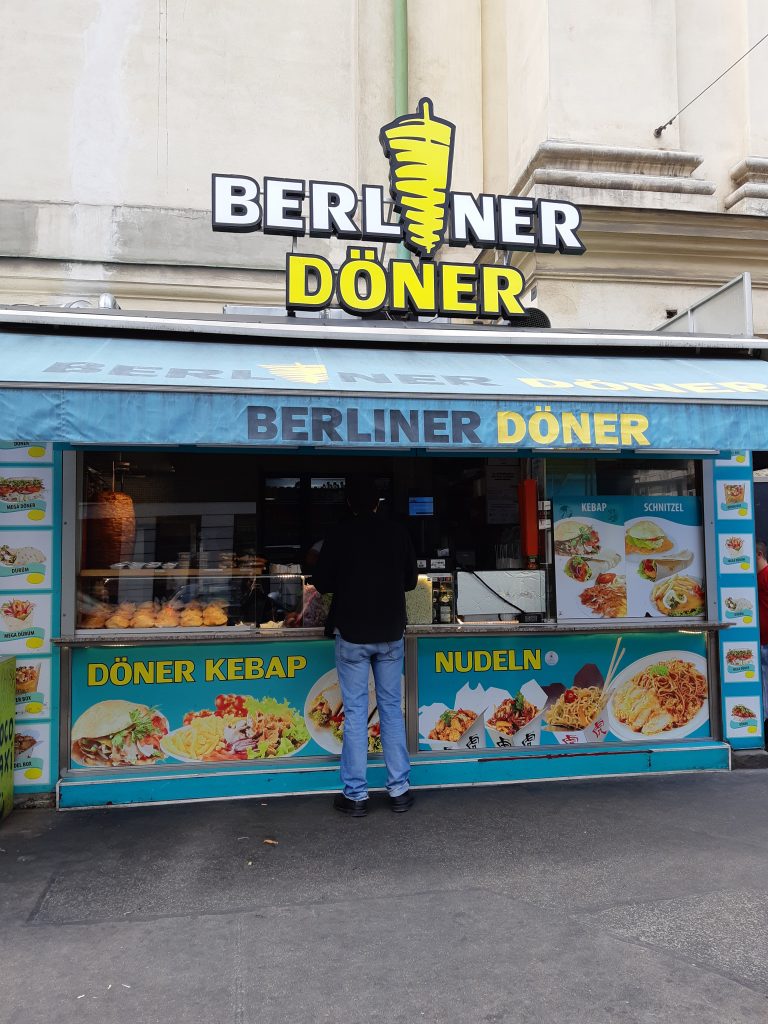 12. Sachertorte
I could have started by saying that I chose Vienna as a destination for no other reason than to get a taste of the famous Sachertorte—but that would have been a bit simplistic, although it certainly did play an important role. I have to admit. I ate at least one slice of Sachertorte every day I was there, and I'd strongly recommend that you do the same.