From grand palaces and gardens to Russian Folklore and everything in between, Musement shares what to do in Saint Petersburg during a particularly magical time of year.
Be inspired by the decadent Fall colors, the kind temperatures and the arts and culture of Saint Petersburg in September. Here is Musement's list of what to do on your visit to the Venice of the North.
1) Discover The Hermitage Museum & The Hermitage Theatre
Visit one of the oldest and largest museums in the world with a fantastic collection of more than three million art pieces and artifacts, including the largest collection of paintings in the world! Established in 1764 by Empress Catherine the Great, the artifacts range from Egyptian antiquities to the modern romance of 19th and 20th century art. The building itself is truly spectacular and a visit here is definitely a must. It is also a part of the same building complex as the Winter Palace and the Heritage Theatre where you can witness Russian Cultural performances, such as ballet, folk singing, plays and traditional Russian dance. One particularly noteworthy performance is the Swan Lake ballet at The Hermitage Theatre. The Theatre was originally built for Catherine the Great and her royal family's own personal performances, the theater itself has a fascinating history and the majestically decorated interior will make you feel extravagant. Get your tickets for Swan Lake here.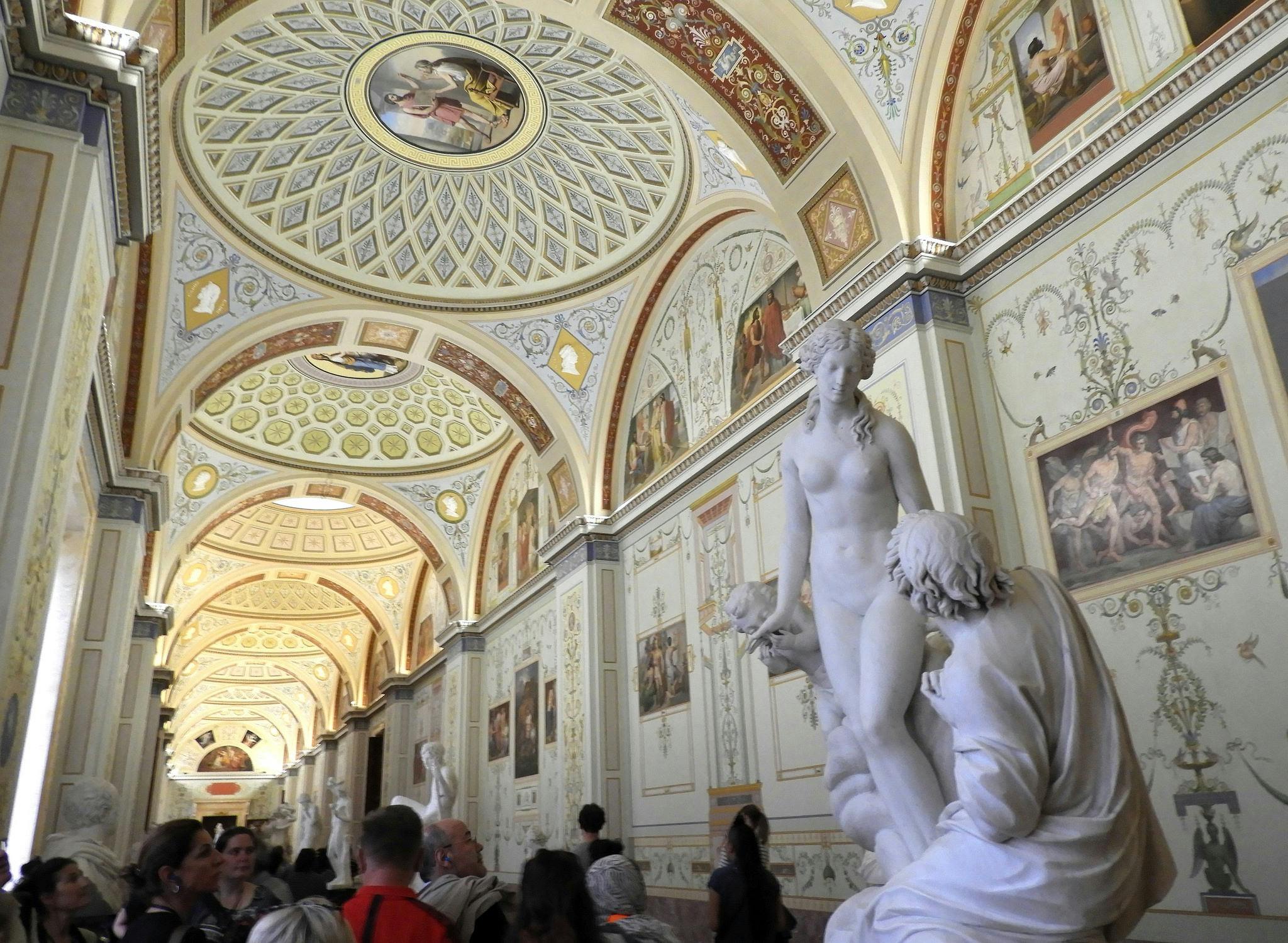 The Hermitage Museum, Photo credit: ustung via VisualHunt / CC BY
2) Go on an enchanting St. Petersburg Canal Cruise
You may have heard of the famous canals in Venice and perhaps the canals in Amsterdam, but have you heard of the ones in St. Petersburg? Situated on the Neva River and the Gulf of Finland, this city has some of the worlds most beautiful city-canals and the stunning bridges that accompany them. In fact, the city has been dubbed the romantic alternate name of "Venice of the North". Take an enchanting evening river cruise through the city for a whole new perspective on this Russian gem by enjoying the sweet Fall air and the changing leaves while embracing the season's transformative atmosphere. Although, the canal cruise is best to take from May through November, going to St. Petersburg in the winter can be breathtaking in its own right, with the many bridges dusted with snow and evening lights illuminating your crisp winter wonderland walks throughout this historic city. No matter what season you choose, you will enjoy the beauty of canals, just remember to dress warm.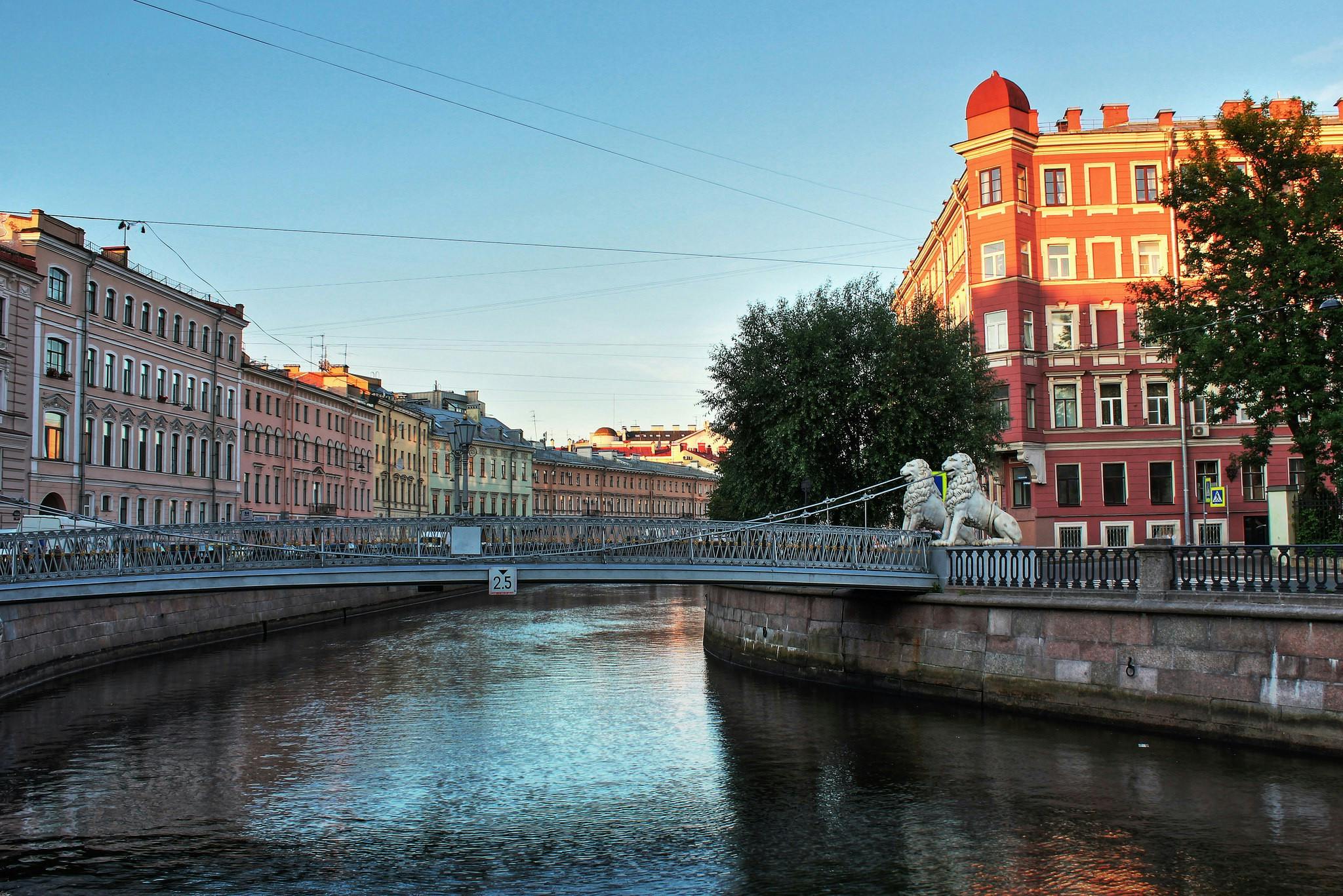 Bridge of Four Lions, St. Petersburg, Russia, Photo credit: Yair Aronshtam via VisualHunt / CC BY-SA
3) Visit Catherine Palace and the Peterhof Palace & Gardens
Completed in 1756, this lavishly decorated blue and white palace is spectacular to behold and yet truly hard to conceptualize as its majesty can be recognized as a living memory of times of royal excess. Approximately 1 km in circumference, it's exterior alone is decorated with more than 100 kg of gold! Named after Catherine I, the wife of Peter the Great, it was actually finished as a boisterously extravagant personal project by her daughter Elizabeth, also known as the Empress. Learn more about the riveting history of the Russian Tsars by taking a tour in the palace and combine your visit with a tour of the Peterhof Palace and Gardens, located just outside the city and littered with breathtaking fountains and flowery walks. It has been proudly named a UNESCO World Heritage Site and is often referred to as the "Russian Versailles".

Catherine's Palace in the Fall, Photo credit: Ninara via VisualHunt / CC BY
4) Visit The Church of the Savior on Spilled Blood
This magnificent work of art and architecture is one of the main icons through which travelers have been known to identify the city of St. Petersburg and for good reason, as there is no other building in the world quite like it with its golden peaked spires and its large mosaic encrusted walls. Built in memory of the assassinated Alexander II, the church was built in the exact location of his tragic death. Alexander II is remembered as one of the greatest Russian Tsars because of his progressively liberal political decisions such as the emancipation of serfs (de facto slavery) in 1861. Bask in the church's sheer majesty and take a wonderful walk through the city as there is so much to see within walking distance, just remember to pack a warm sweater and some comfortable shoes before you embark on your journey of discovery.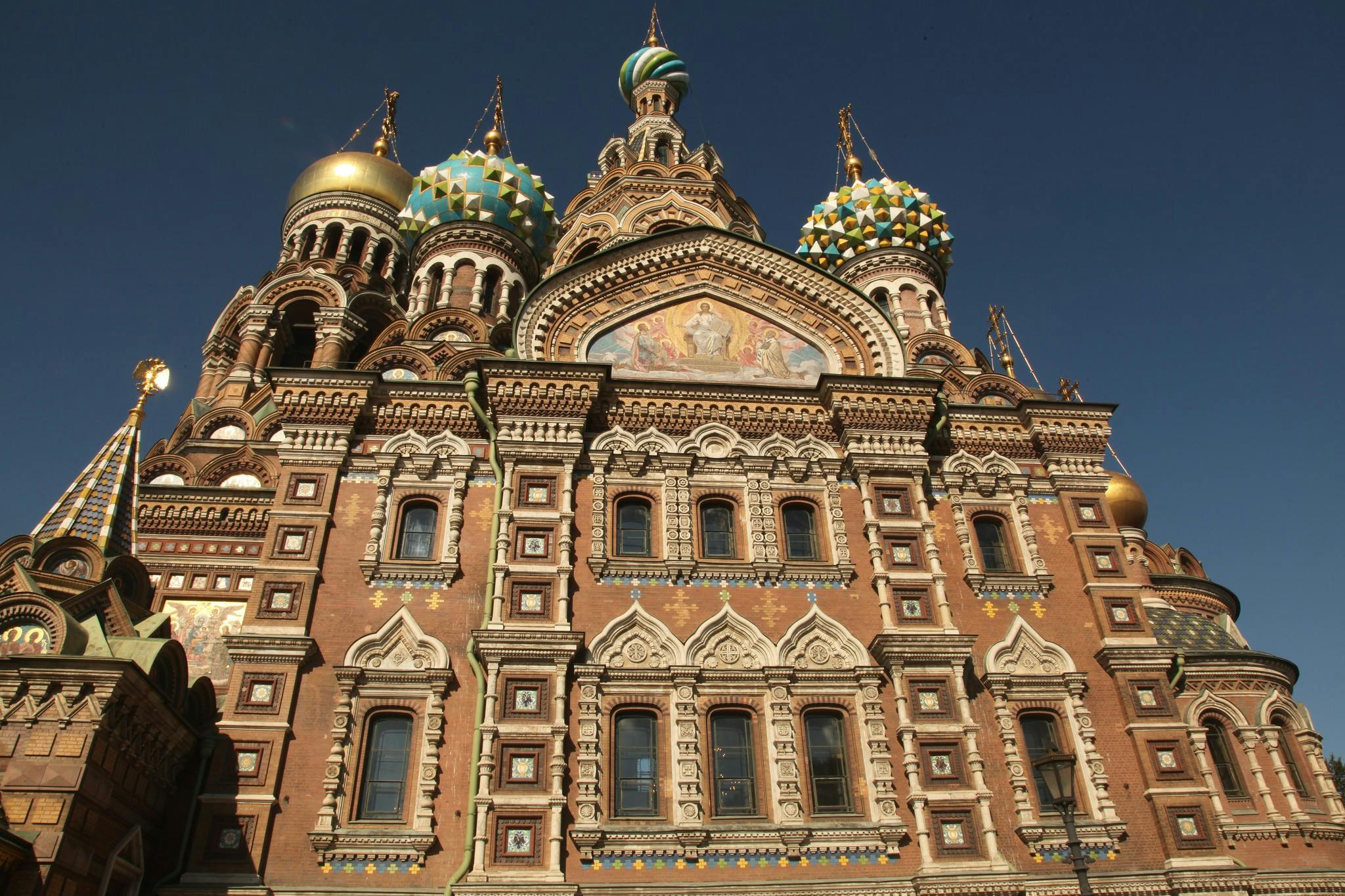 The Church of the Savior on Spilled Blood, Photo credit: paweesit via Visualhunt.com / CC BY
5) Watch a Russian Folk show at Nikolaevsky Palace
Get a taste of Russian culture with Russian Folklore in a venue with remarkable historical importance. Get ready for an all around sensational experience with enthusiastic dancing, emotional folklore music and some notorious subtle Russian humor. Nikolaevsky Palace has centuries of history as a home, banquet hall, a church and continues to be used by the new Russian political class representatives. Its exquisite interior is also used for performances providing the folk shows performed here with extra dramatic flair. An entertainment atmosphere suited for a Duke or Duchess awaits. Get your tickets to this must-see here.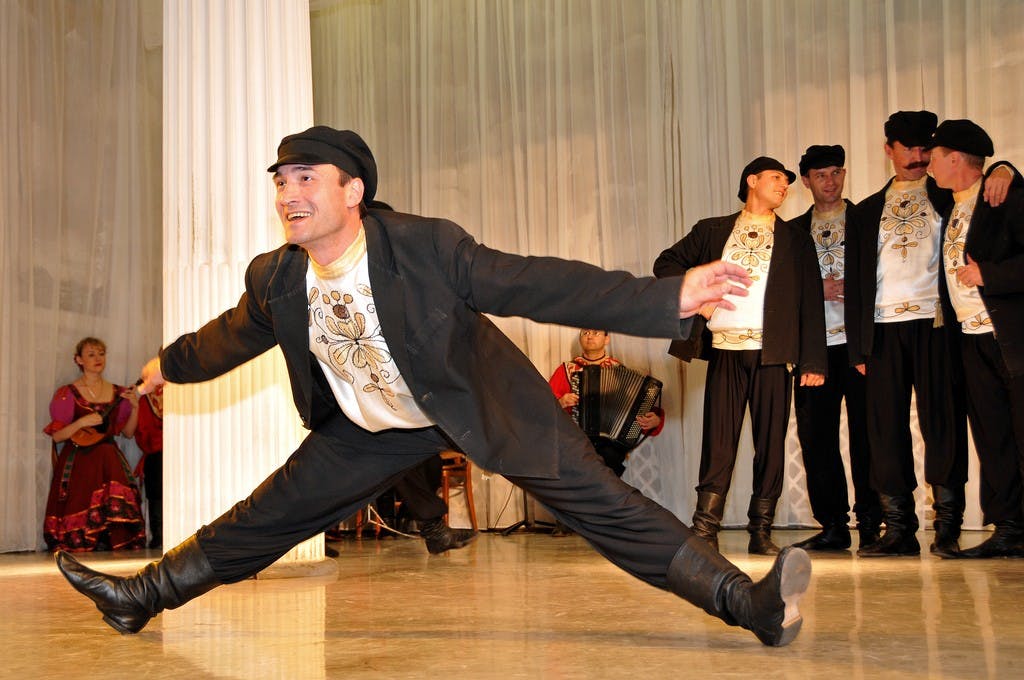 Russian Folk Show, Photo credit: archer10 (Dennis) 102M Views via Visualhunt.com / CC BY-SA
6) Indulge in the Russian cuisine
Any trip to a new city wouldn't be complete without trying the local food. Saint Petersburg boasts an array of options from fancy restaurants to comfortable cafes, so no matter what your palate, you can find the flavors that suit you. Although we do recommend trying Borsch, a famously delicious Russian soup that indeed has a comedic reputation of making or breaking a marriage depending on the wife's ability to cook it! If you want more detailed advice about delicious dining in Saint Petersburg, check out this article about 13 foods to eat in St. Petersburg!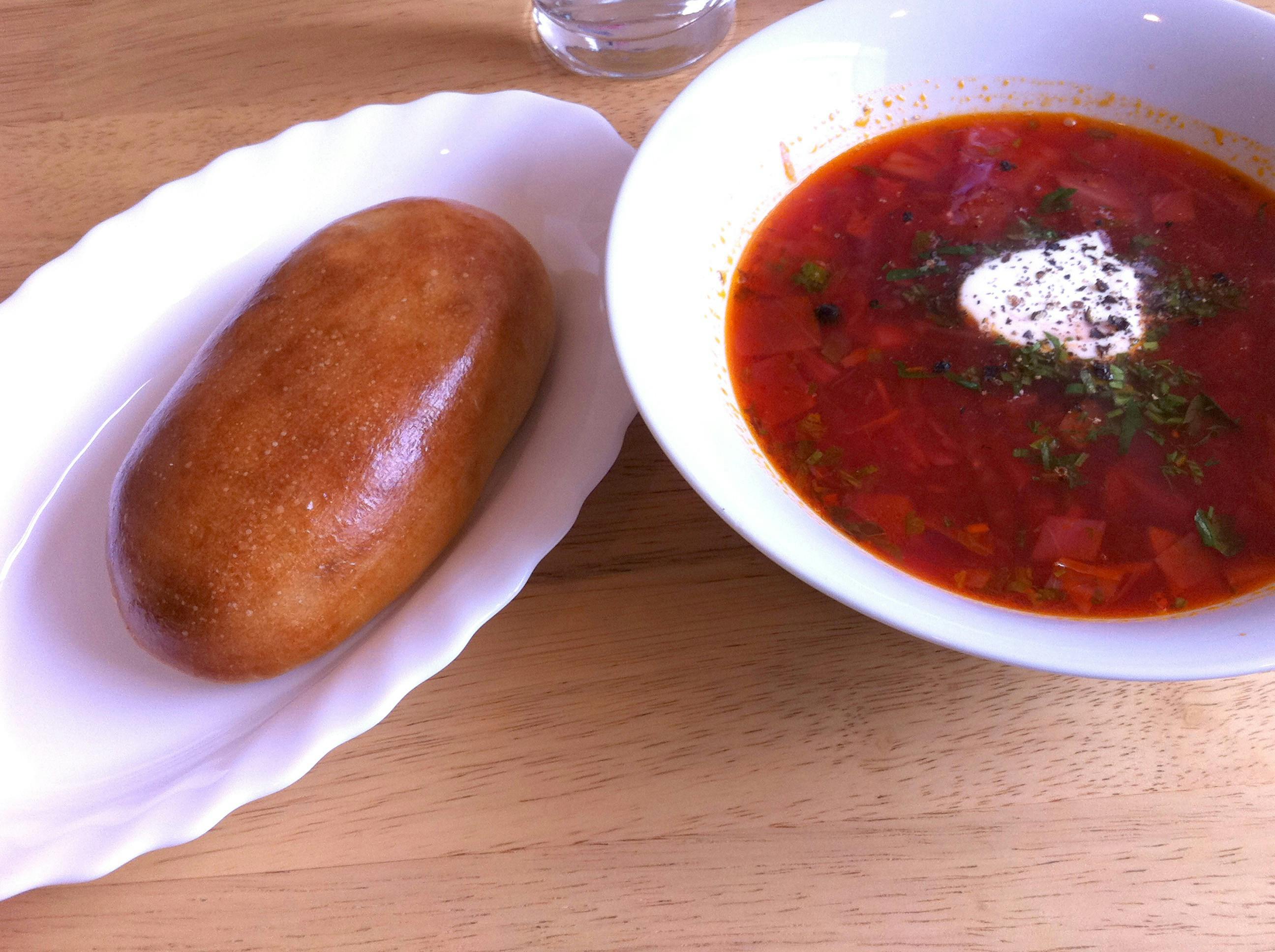 Vegetable Borsch with bread, Photo credit: www.theedinburghblog.co.uk via VisualHunt / CC BY
St. Petersburg, Cover Photo credit: Ninara via Visualhunt / CC BY