The city of 'cocido', calamari snacks, 'chulapos' and partying until dawn. Madrid is an experience for all of the five senses. Here are 33 recommendations for things you can't miss in El Foro.
"From Madrid to heaven and from heaven a little window to look down on Madrid", goes the famous saying. Today, a huge billboard with this quote welcomes anyone driving into the Spanish capital along road M-30.
Home to some of Europe's most important museums, Madrid is an energetic city brimming with history around every corner. Losing yourself in the city's streets is delightful. You'll find yourself surrounded by buildings adorned with balconies and amidst historic squares and taverns. It's been said that you can never really get to know Madrid, but that doesn't mean you can't try. Here are 33 things to see and do to immerse yourself in the city's essence.
1. Take a few minutes to visit Puerta del Sol, the city's main square, to snap a selfie in front of the famous statue of the bear eating from a strawberry tree. Also, don't forget to photograph your feet beside 'Kilometer 0', a plaque that marks the meeting point of Spain's radial roads.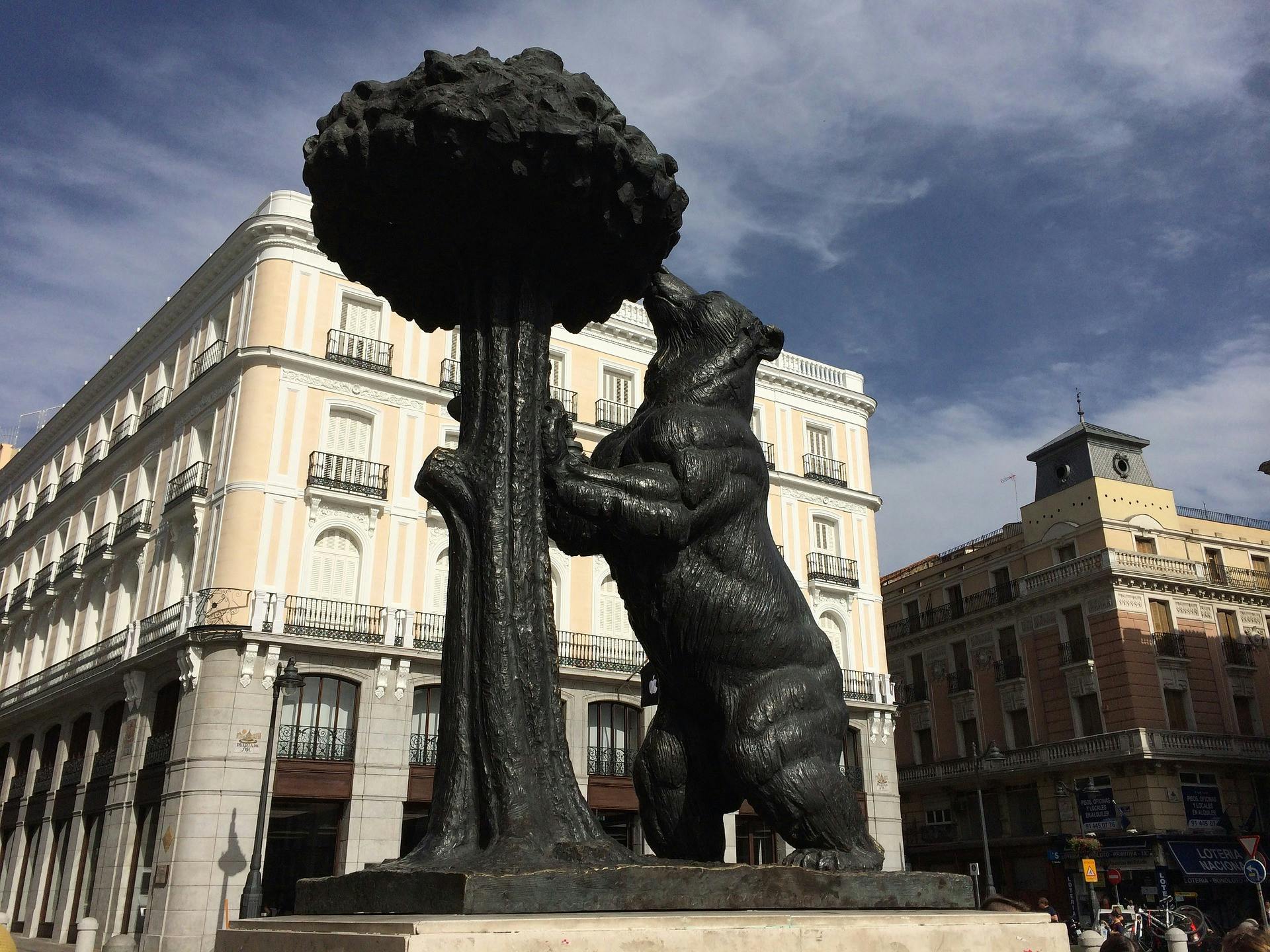 Puerta del Sol, Photo credit: MCadriD
2.  Take a sunset stroll on Gran Via surrounded by a festival of lights. This busy boulevard is reminiscent of New York City's Times Square.
3.  Snack on some calamari from one of the bars near Plaza Mayor. Tip: Don't go to a 'trendy' place; the more authentic-looking, the better.
4.  Stroll through El Retiro, which is Madrid's famous 'green area'. Weather permitting, rent a small boat and take a spin around the lake. For fun, search for the statue of the Fallen Angel, which can be eerily found at 666 feet above sea level.
5.  Spend a few hours immersing yourself in the amazing Prado Museum collection, where you will recognize some of the finest works by prominent artists such as Goya's The Third of May, 1808 or Las Meninas by Velázquez.
6.  Enjoy delicious 'churros' drizzled with warm chocolate at Chocolatería San Ginés.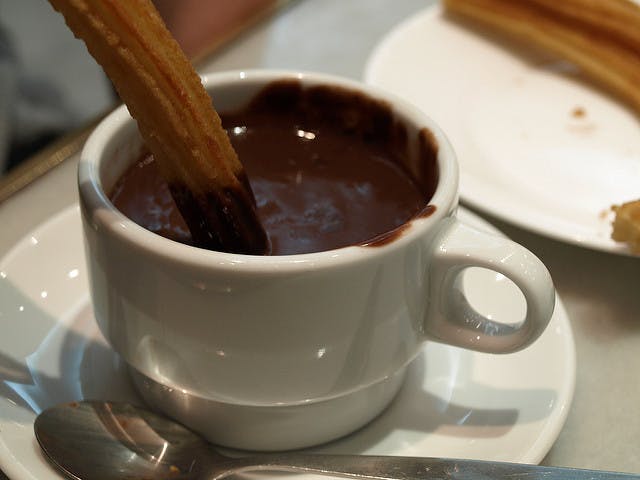 Chocolatería San Ginés, Photo credit: Trubble on Visual Hunt / CC BY-SA
7.  Climb to the roof of Círculo de Bellas Artes and for one of the most stunning city views.
8.  Travel back in time to Ancient Egypt by visiting the Temple of Debod. Egypt donated this second-century temple to Spain in 1968.
9.  See the famous Picasso painting; 'Guernica' at the Reina Sofía Museum.
10.  Explore the multiculturalism found in every corner of the Lavapiés district.
11.  Visit the Royal Palace, the official residence of the Spanish monarchy.
12.  Go shopping on Calle Preciados and its neighboring streets.
13.  Take the metro to Plaza de Castilla and marvel at the immensity of the inclined Kio Towers and the dizzying Cuatro Torres.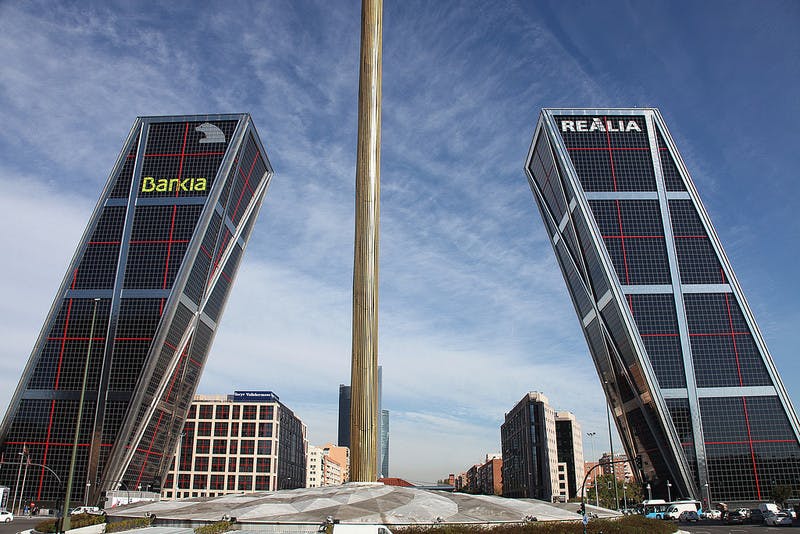 Photo credit: rick ligthelm on Visual Hunt / CC BY
14.  Dine at Casa Botín, the world's oldest continuously operating restaurant that opened in  1725.
15.  Enjoy some Sunday cañas (beer) and tapas (traditional Spanish snacks) in Calle Cava Baja, the Latina district.
16.  Look up and admire the impressive Caixa Forum vertical garden.
17.  Don't miss out on the San Isidro festivities, which are held every May and fill the streets of Madrid with chulapos (locals dressed in traditional costumes).
18.  On Sunday, lose yourself in Rastro, a weekly outdoor market where you can find everything from antiques to furniture and clothing.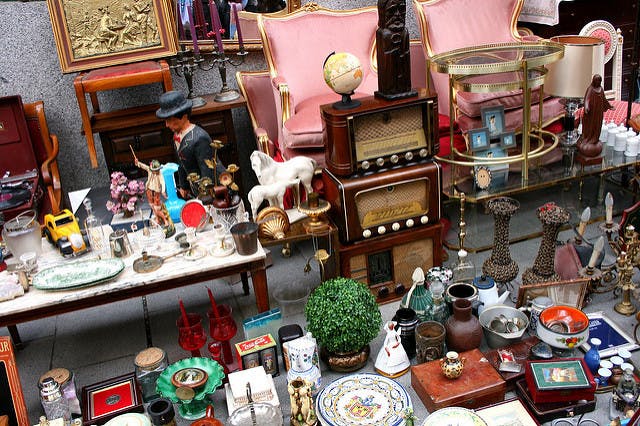 Rastro, Photo credit: jafsegal (Thanks for the 3 million views) on Visual Hunt / CC BY
19.  Visit the Cibeles Fountain, where Real Madrid celebrates its titles, and the nearby Neptune Fountain, associated with Atlético Madrid.
20.  Enjoy a movie under the stars in the capital's only drive-in movie theater.
21.  Savor the best huevos rotos in Madrid at Casa Lucio restaurant.
22.  Discover the Madrid Río urban beach, a park on the banks of the Manzanares with fountains and water jets where you can cool off in the summer.
23.  Experience the alternative nightlife of Malasaña's pubs and bars.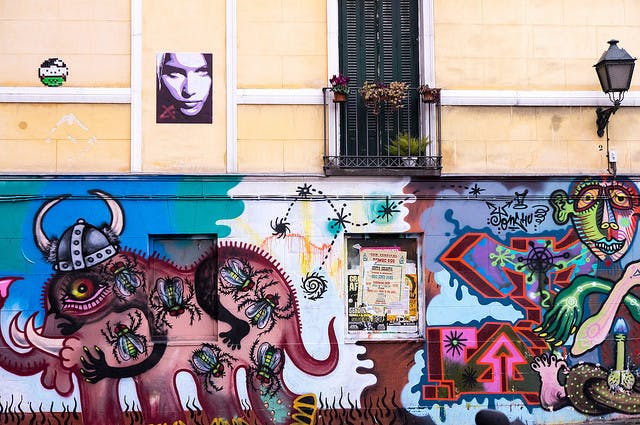 Malasaña, Photo credit: r2hox on Visualhunt / CC BY-SA
24. Visit the Santiago Bernabéu Stadium, the second largest football stadium in Spain.
25. Savor a tall cup of coffee at the historic Café Comercial, a place where well-known Spanish writers such as Antonio Machado or Camilo José Cela used to hang out.
26. Take a ride in a cable car to see Madrid from a different perspective.
27. Let yourself be tempted by the sweets at La Mallorquina's shop window…and then give in to the temptation.
28. Enjoy a picnic at Parque de las Siete Tetas in Vallecas. 'The Park of Seven Breasts', was eloquently named after its seven hills.
29. Taste all kinds of delicacies at the wrought-iron-and-glass San Miguel Market.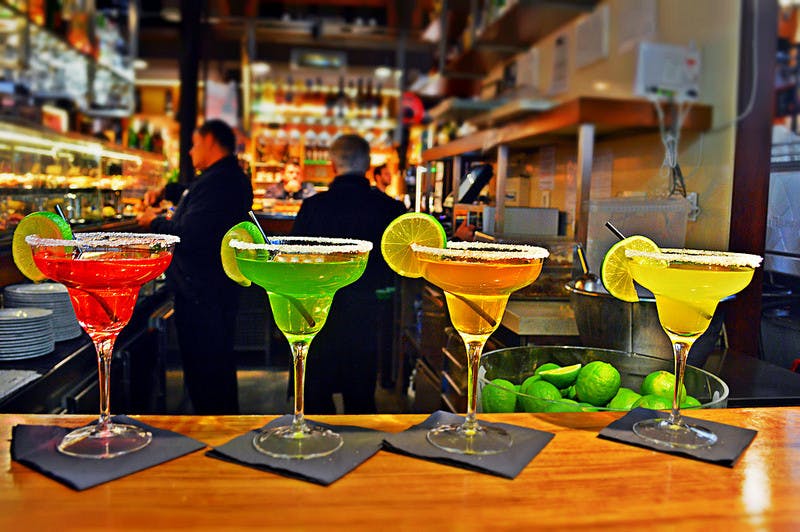 San Miguel Market, Photo credit: MrT HK on Visual hunt / CC BY
30. Search for Civil War bunkers in Parque del Oeste.
31. Enter the Almudena Cathedral to gaze at the colorful stained glass windows.
32. Take a relaxing break in Parque del Capricho, one of Madrid's most beautiful and lesser known parks.
33. Stand in front of Puerta de Alcalá, an important symbol of the Spanish capital that was once one of five royal gates along the ancient walls.