Want to visit Disneyland Paris but don't know where to start? Read our guide below for our top tips, the shows you can't miss, and the latest news.
Disneyland Paris is one of Europe's most beloved theme parks and is jam-packed with things to see and do. Whether you want to combine your visit with a trip to Paris or choose to spend two or more days exploring the numerous attractions, it can be a little daunting organizing your plans.
That's why we've prepared our ultimate guide to Disneyland Paris, which includes an entire section dedicated to annual events and updates that you don't want to miss.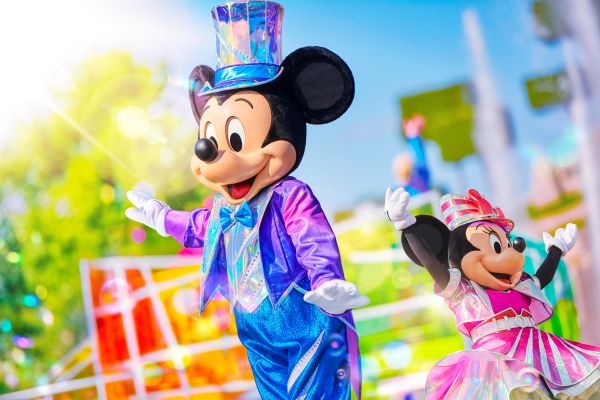 Keep reading and scroll through the sections to discover everything you need to know about Disneyland Paris:
The parks of Disneyland Paris
The Disneyland Paris complex consists of two amusement parks, the Disney Village (free admission), and the hotel area. Here's a brief overview of the different areas:
Disneyland Park
Opened in 1992 this is the original park of the complex, which is quite large and suitable for all ages. Here, you'll find over 30 attractions divided into five themed areas. You can meet your favorite Disney characters, attend shows and legendary parades. And the highlight of the park? Without a doubt it's the Sleeping Beauty Castle, in a unique version that you won't find in any other Disney park in the world.
To fully experience Disneyland, we recommend giving yourself at least a full day to fit in the top sights. With two days available, you'll be able to enjoy the attractions at a more relaxed pace and maybe revisit your favorites.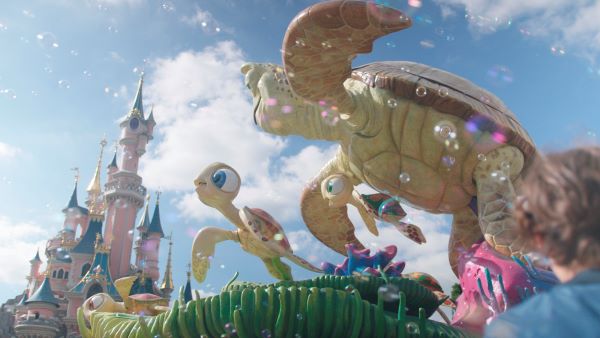 Walt Disney Studios Park
While it's decidedly smaller (half a day might be enough to explore the Studios), the Walt Disney Studios Park is rapidly expanding and is a must-visit for those who love the world of Hollywood cinema. Immerse yourself in any number of your favorite films through its entertaining attractions.  Thanks to the new Avengers Campus area, you'll even have the opportunity to take a photo with the heroes of the Marvel world.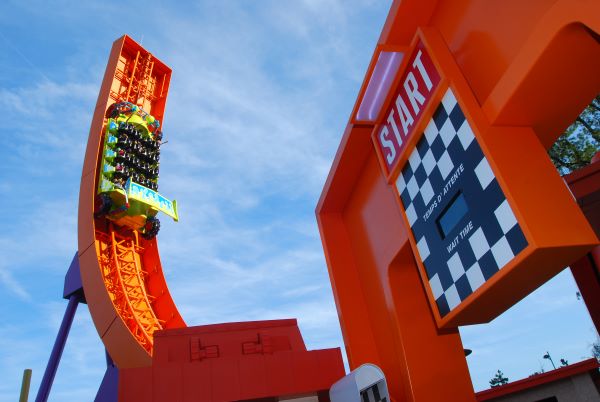 Disney Village
Disney Village (free admission) is the perfect way to continue experiencing that Disney magic outside the amusement parks. It's a commercial area where you can shop, dine at restaurants, have a drink, or enjoy a coffee. You'll also find a cinema here, plus concerts and other entertainment events.
Some tips on Disneyland Paris
The European Disney complex is easily accessible by both car and public transport. The most convenient way to reach the parks from Paris is by train, which takes approximately 35 minutes to reach Marne-la-Vallée/Chessy station, just a 2-minute walk from the entrances.
While a full day is enough to experience the main attractions of Disneyland and immerse yourself in its magical atmosphere, our advice is to stay for at least a couple of days to really enjoy the experience and also have time to visit the attractions at Walt Disney Studios.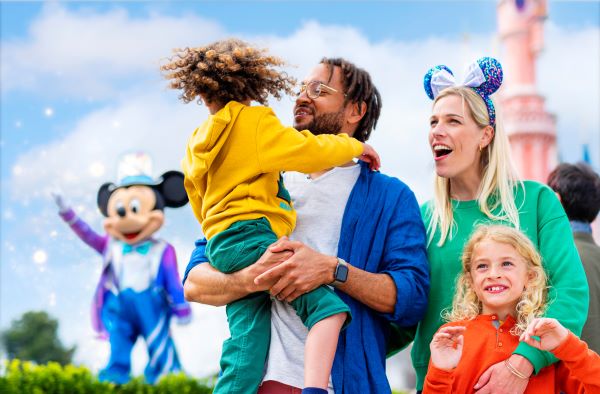 Where to stay: Disney hotels and nearby accommodations
Disney Hotels: The best way to continue living the Disney magic is to stay in one of the six themed hotels. With prices that vary depending on the period and the type of hotel, staying in a Disney hotel comes with numerous perks, including early access to certain areas of the park. If you're a Marvel fan, the Disney Hotel New York – The Art of Marvel is not to be missed. Even if you don't stay there, pay a visit and discover over 300 Marvel works created by artists from all over the world.
Affiliated or partner hotels: They offer free shuttle service to the park. There are some convenient options in the Val d'Europe area, just a 10-minute shuttle ride from the park. Adagio Marne-la-Vallée Val d'Europe, for example, is the ideal solution for family travel, thanks to its comfortable apartments.
Hotels in Paris: As mentioned, the parks are only 30km from the city center, which makes them an excellent option for those wanting to combine their visit with a trip to the French capital.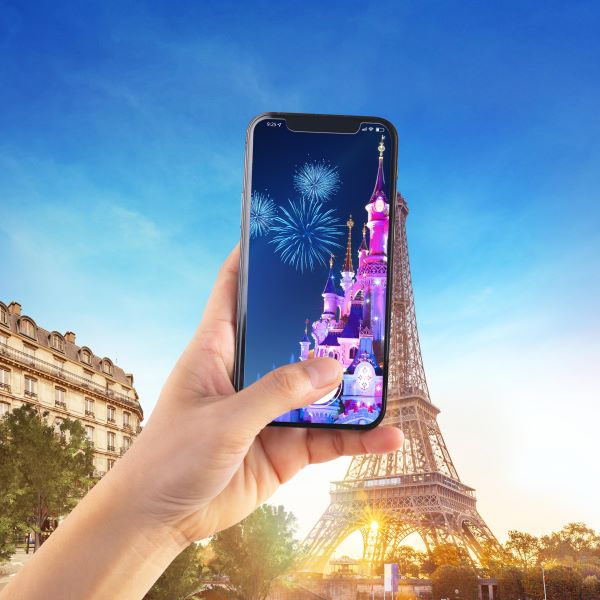 Where to eat at Disneyland Paris
Everything is an enchanting experience at Disneyland Paris, even mealtimes. In the parks and Disney Village, you'll find numerous themed restaurants and fast-food options. Some, especially buffet or table-service ones, are very popular, so it's advisable to book them well in advance.
Here's a selection of our favorites:
Auberge De Cendrillon, Fantasyland: An elegant restaurant inspired by Disney princesses, it has five finely decorated rooms and refined French cuisine. Dining here feels like being in a fairy tale.
Captain Jack's, Adevntureland: The restaurant of Pirates of the Caribbean. It serves up Caribbean and Creole food, with a high chance of encountering a very hungry Jack Sparrow.
PYM Kitchen, Walt Disney Studios: A brand-new buffet restaurant located in the Avengers area. Here, thanks to Ant-Man's superpowers, classic American fast food gets a surprising twist.
Hakuna Matata, Adventureland: A fusion fast-food restaurant that brings a taste of Africa to Paris. Perfectly themed and inspired by The Lion King, this restaurant is recommended for a tasty lunch between attractions.
Cable Car Bake Shop, Main Street: The ideal place for breakfast or a delicious snack. This small French bakery has everything you could desire, from pastries and croissants to cakes. Its Victorian style completes the experience.
Events at Disneyland Paris
Visiting Disneyland Paris is always a great idea, and thanks to its annual events the experience is different every time. Find out which celebration suits you below in our event summary.
Grand Finale 2023
Disneyland Paris celebrated its 30th anniversary on 12 April 2022, and the celebrations are still going.  Until 30 September visit Disneyland Paris to experience the "Grand Finale" of this special anniversary and be part of the park's history. The atmosphere is special, exclusive souvenirs are available, and special snacks and beverages have been created just for the occasion.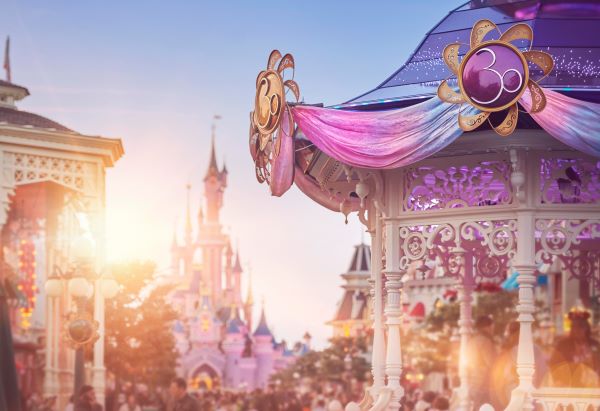 Disney Halloween Festival
Are you a fan of Disney's villains? Then the Halloween Festival is the perfect time for you! From early October to early November, Disneyland transforms into a spooky place, filled with carved pumpkins, creepy decorations and friendly ghosts. Meet some of your favorite bad guys during the day and then finish the event with a Disney-themed Halloween parade. And don't be scared for the kids, it's suitable for all ages.
Disney's Enchanted Christmas
What could be more enchanting than Christmas at Disneyland? If you love the festive season then you won't want to miss Disney's Enchanted Christmas, taking place from 11 November 2023, to 7 January 2024. Get ready to enter into a winter fairytale, complete with enchanting shows, festive parades, princess dresses, and an incredible Christmas tree. With a little luck, you might even see some snow!
Disney New Year's Eve
Of course, New Year's Eve doesn't pass by unnoticed at Disneyland Paris. Want to combine the Christmas atmosphere with a sparkling New Year's celebration? Make sure to book your tickets before 31 December and look forward to a day of celebration with extended opening hours and special moments.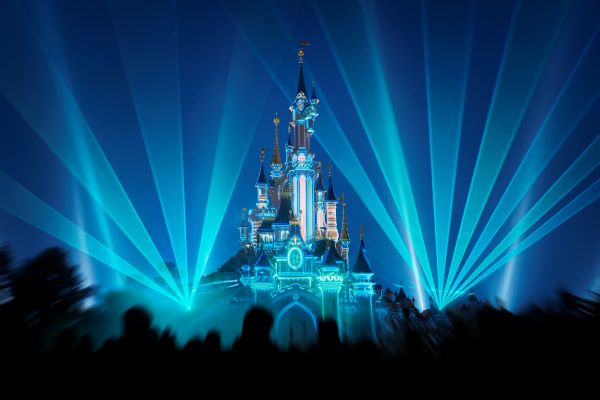 New attractions and Disney news
Whether it's new attractions, hotel renovations or themed areas, the magical world of Disneyland Paris never stops. There's always something new to discover.
Here's some of the latest news:
Avengers Campus at Walt Disney Studios Park
Attention, superhero fans: the brand-new Marvel Avengers Campus at Walt Disney Studios Park is the place to meet your favorite Marvel characters and embark on exciting missions. This area is bustling with superheroes, and at the Hero Training Centre, you can learn their most famous moves. Avengers Assemble: Flight Force and Spider-Man W.E.B. Adventure are two must-see attractions.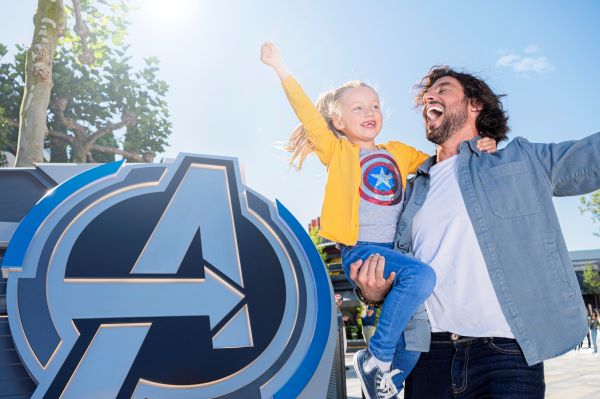 Together: A Pixal Musical Adventure
Starting from mid-July 2023, you can experience a brand-new, exclusive show at Walt Disney Studios Park. Together: A Pixar Musical Adventure is a musical featuring beloved Pixar characters. Accompanied by a live orchestra, characters from Coco, Up, Finding Nemo, Toy Story, and many others will tell a special story about friendship.
The return of Disney Dreams!
Last staged in 2017, the luminous nighttime show Disney Dreams! has returned shining brighter than ever. This light show, projected every evening onto Sleeping Beauty Castle, combines special effects with lasers, fountains, and fireworks. It's a grand event to finish off your day at Disneyland!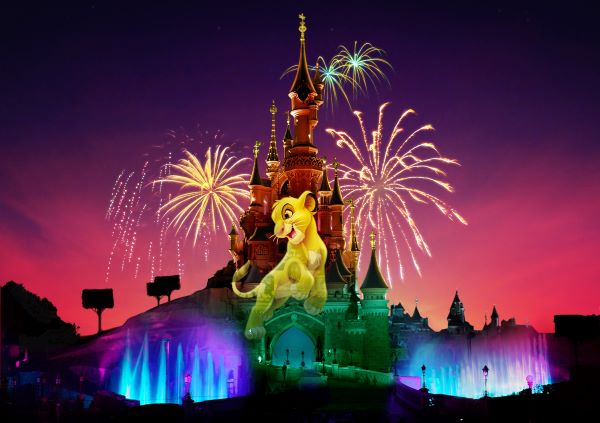 Coming soon
The legendary five-star Disneyland Hotel will reopen its doors in 2024 after an impressive renovation. A stay in the renovated Sleeping Beauty Castle will be a royal experience, paying tribute to Disney princes and princesses and European landmarks.
Now you've finished reading our tips, the only thing you might be missing are the tickets! Take a look at the options below and choose the one that suits you best
It goes without saying that a trip to Disneyland could also be perfectly combined with a visit to the City of Lights. Climb the iconic Eiffel Tower, admire the Mona Lisa at the Louvre, or take a cruise on the Seine.
If you're traveling with children and looking for other fun things to do together, read our article with the best tips on what to do in Paris with kids.