Looking for the best restaurants to eat paella, try tasty tapas and sip on a vermut while enjoying all there is to see in Barcelona? Check out these insider tips from a local to visit the most authentic restaurants on offer in the Catalan capital.
If you're anything like me, one of my top priorities while traveling is being in the know about where and what to eat. And for me – the more local, the better.
I don't simply seek out this experience to taste cuisines that are particular to a region or a culture – for me, it's also about supporting small and often family-run local businesses.
And in my humble opinion, this approach is much more rewarding (both for you and the city's residents) than a visit to one of the many Pans & Company – Spain's equivalent to a fast food chain – that are constantly popping up around Barcelona.
Tapas to blow your mind but not your budget
Spain is renowned for its tapas culture – that being the bite-sized snacks on offer to accompany your glass of vino or other beverage of choice.
Tapas classics include patatas bravas (crispy potato chunks with a mild, spicy sauce), tortilla (stacked potato pancake), jamón ibérico (thinly-sliced cured ham) and croquetas (crumbed rolls of either fish, meat or gooey cheese).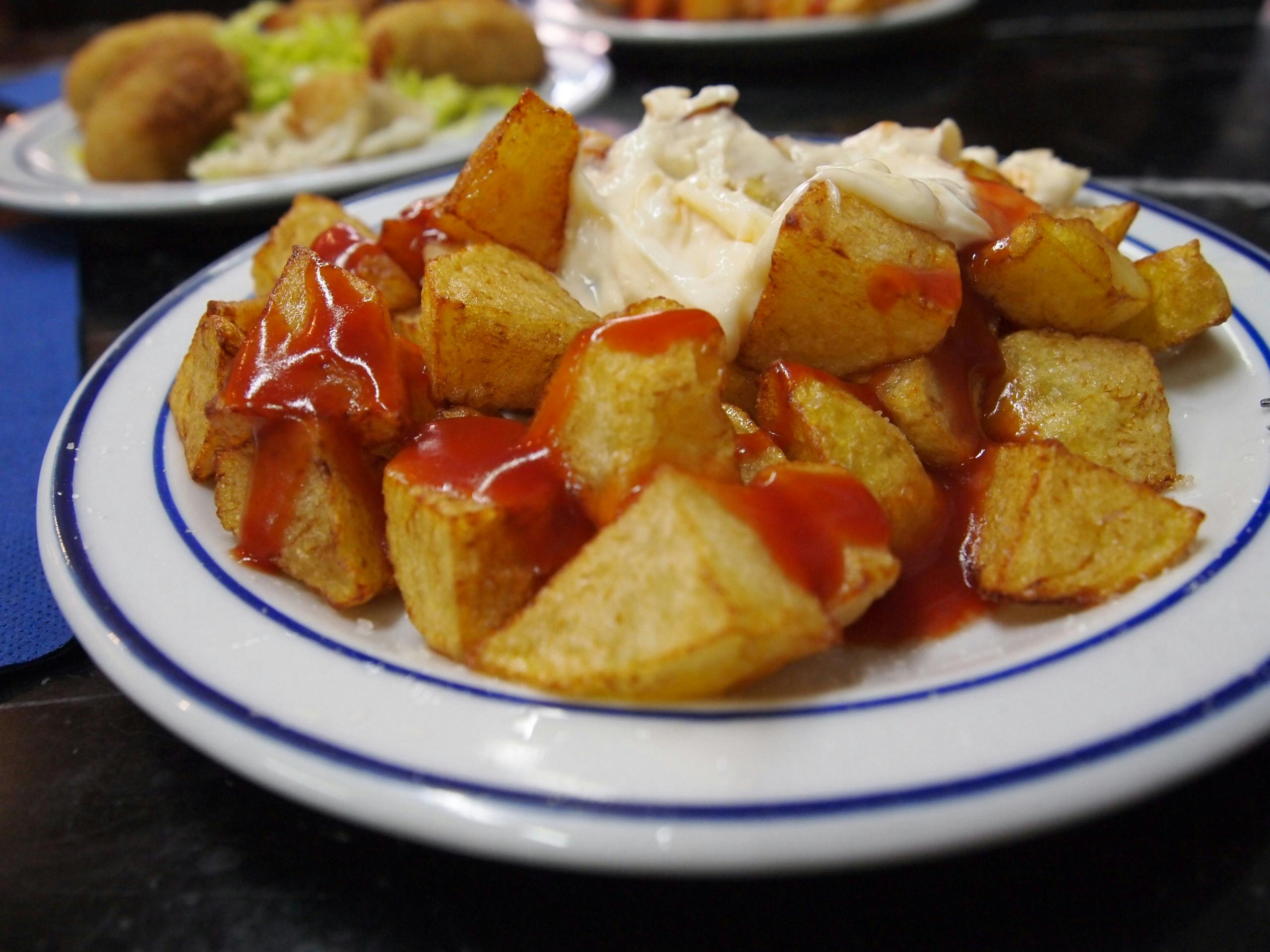 Patatas Bravas, see credit below
Essentially, and you'll realize this quickly, it's a lost cause if you're carb-counting and on vacation in Spain.
My favorite places for tapas are the tiny little bars, those often off the beaten tourist track and having been run by the same family for years. In the neighborhood of Sant Antoni, there's Bar Ramon, where the bombas (potato balls with a delectable meat-filled center), setas (pan-fried mushrooms) and the gambas al ajillo (garlic prawns) are enough to have you coming back every night. This restaurant is usually fully booked so it's best to call early to reserve a table – you may need to find a Catalan or Spanish speaking friend to help you make a reservation.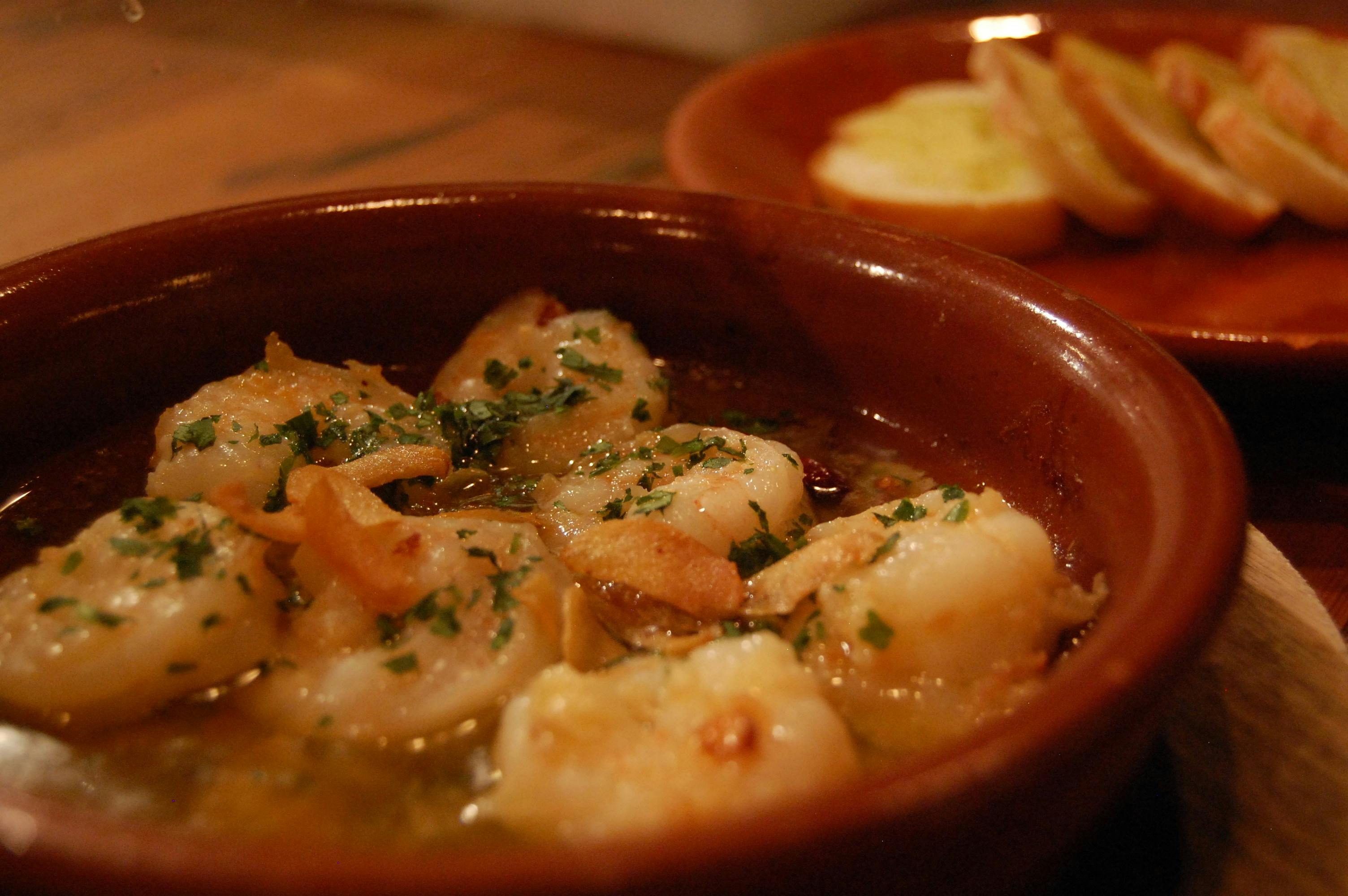 Gambas al ajillo
And just a few hundred meters down the road, there's La Bodega D'en Rafel  – a truly local haunt with a team of middle-aged men serving up tasty albondigas (meatballs), hand-cut pata de jamon (ham off the bone) and freshly-made tortilla (stacked potato pancake).
Paella worthy of a Spanish grandmother's approval
For me, nothing feels more like the start of summer than enjoying a long and leisurely, late lunch by the sea with a huge pan of made-to-order paella in front of me.
Paella, which is a rice-based dish that can include seafood, chicken, rabbit, and vegetables, is best eaten at lunchtimes. My Spanish friends tell me it's a big no-no as an evening meal because of the dish's heaviness in your belly.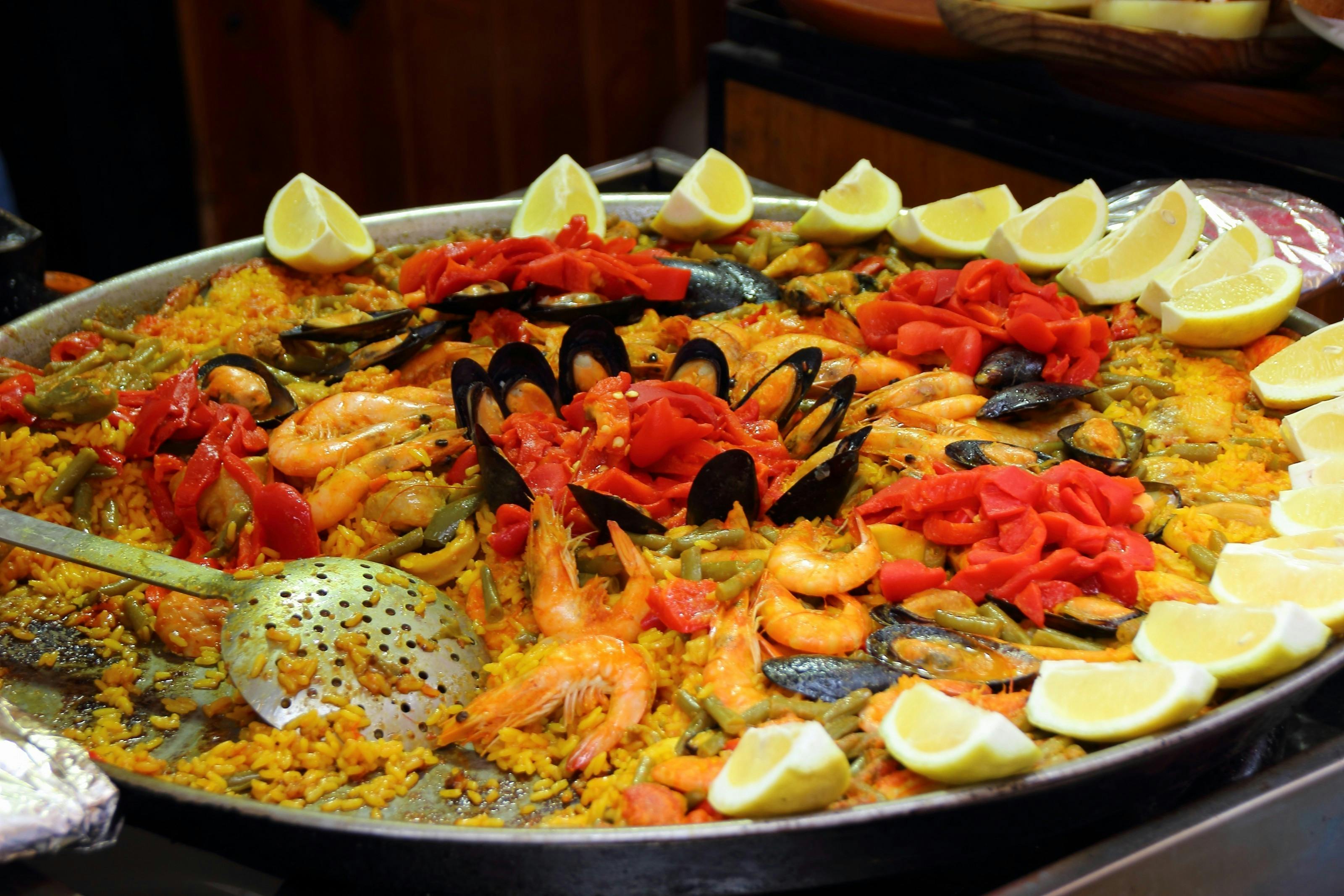 Paella!
I tend to avoid the places right along the main strip in Barceloneta, Barcelona's beach neighborhood, and head a little further into the maze of small streets nearby. Here you'll find Can Ramonet, an establishment well-known for its quality paella in a traditional setting.
And if I feel like splurging a little when I have visitors in town, then I'll head away from the beach and up into the hills to Montjuïc where there's a great place called Restaurant Martínez – the paella with rabbit is my top tip for this spot with great city views.
Noon on a Sunday? It's vermut time!
A huge part of enjoying the food in Spain is also enjoying the drinks!
A tradition that I quickly took on when I first moved to Barcelona is going for 'vermut'. As the name suggests, it involves drinking vermouth, which is a type of sweet fortified wine.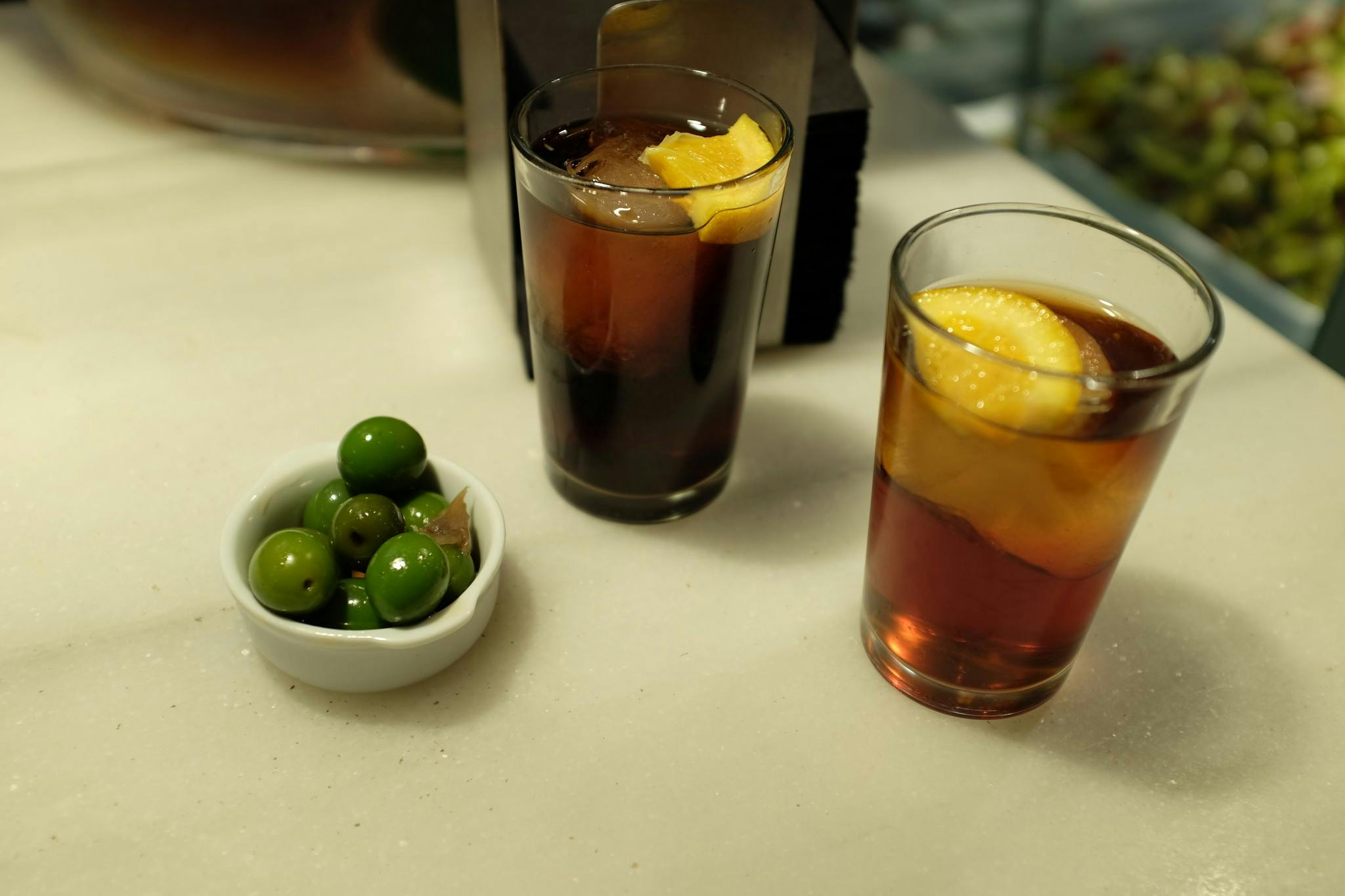 Sunday at noon is the perfect time to enjoy a glass of vermut. (Photo credit below)
But the act of enjoying vermut also refers to the accompanying aperitivos (appetizers) – small snacks that are a little lighter than traditional tapas, such as boquerones en vinagre (anchovies in vinegar), mejillones (mussels) and berberechos (cockles). Many of these will be served up from a tin – so you might get a surprise, as I did, to discover the high-quality of tinned seafood in Spain. And how absolutely delicious it is!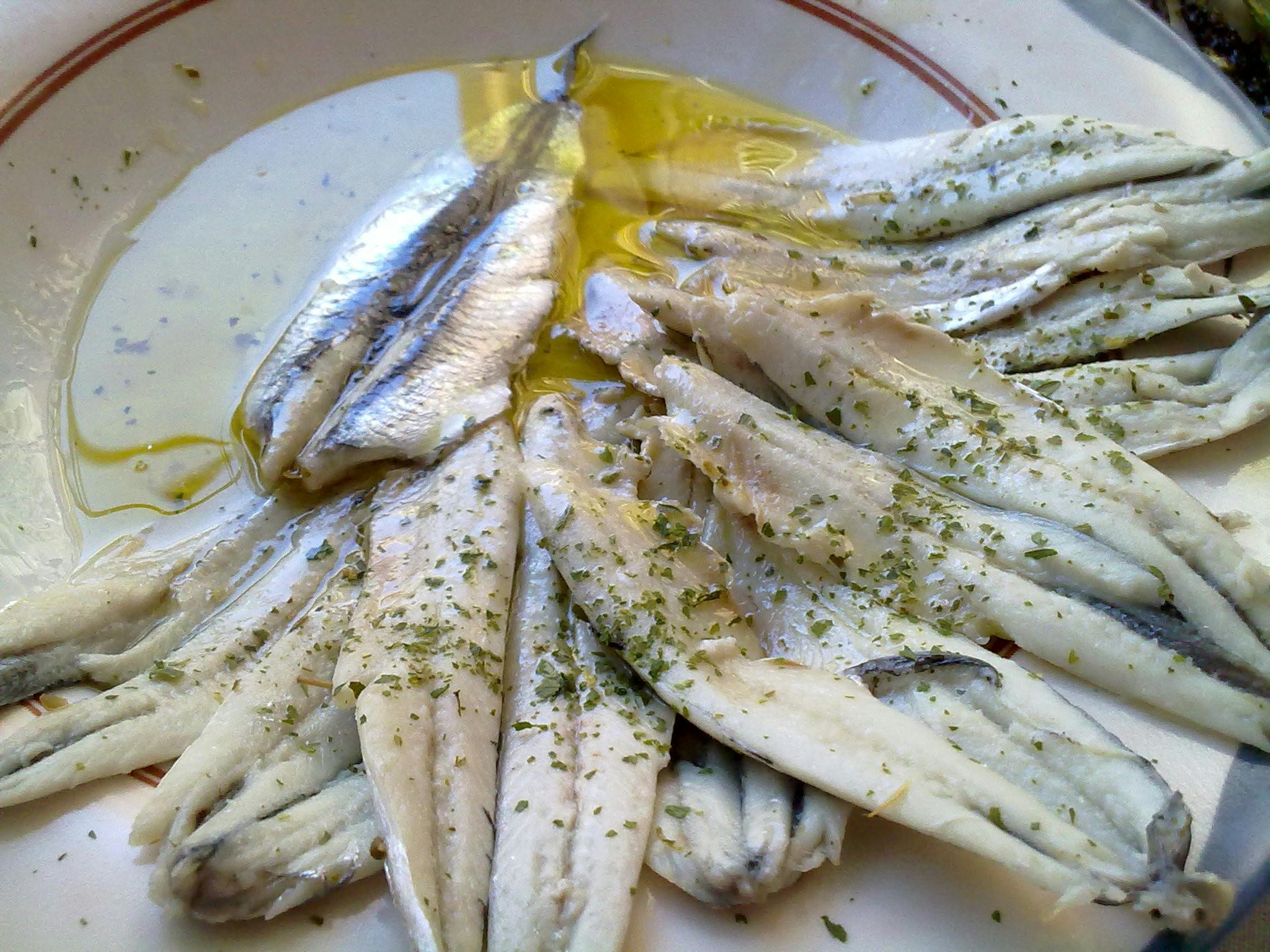 Boquerones en vinagre is a great choice to go with your glass of vermouth
The most popular time to go for vermut is around noon on a Sunday and you may like to check out Bodega La Punctual in the neighborhood of el Borne, Bar Bodega Quimet in nearby Gracia or a little further out at Bar Bodega Carol in the area of Clot.
Traditional treats that will tantalize your taste buds
Barcelona, like most of Spain, celebrates religious and cultural festivals in many different ways, and one of the customs I enjoy the most would have to be the festive treats that appear around the city during these special times of the year.
The Three Kings Day in January means bakery shelves are stocked with El Roscón de Reyes, a sweet bread-type cake shaped in a ring and decorated with glace fruit. Hidden in the cake are a dried bean and a small toy king – you're meant to pay for the cake if you're given a slice with the former and wear the paper crown that comes with the cake if you get the latter.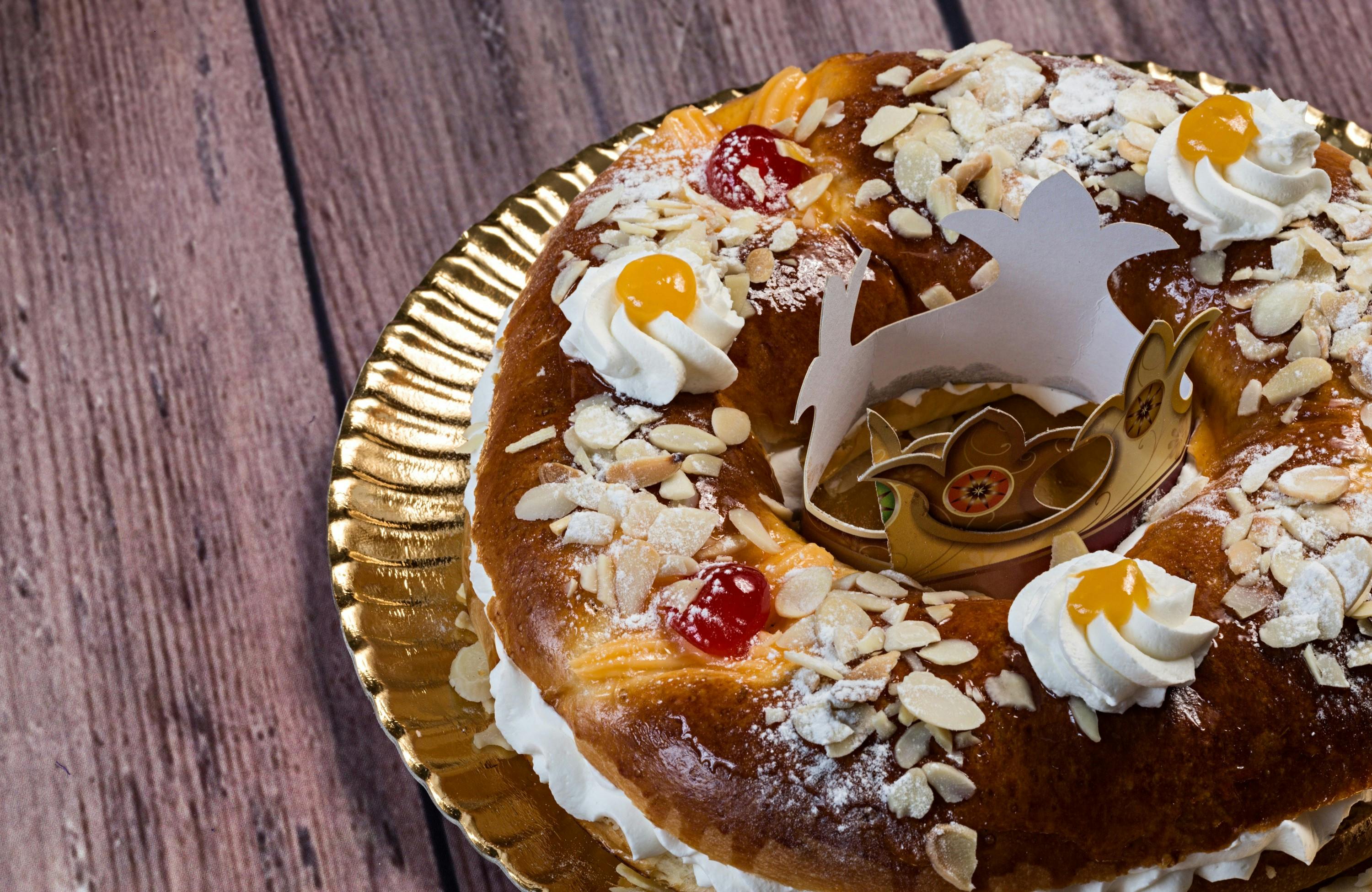 El Roscón de Reyes appear on the shelves around January 6
And the change in season also brings with it its own special treats, with cups of horchata (tiger nut milk) rolling around in summer ­– the best spot for it is Sirvent Barcelona – and in winter you'll spot castañas (roasted chestnuts) and boniatos (roasted sweet potato) being sold by vendors on street corners. And my absolute favorite is spring when out come the calçots – spring onions grilled over a fire.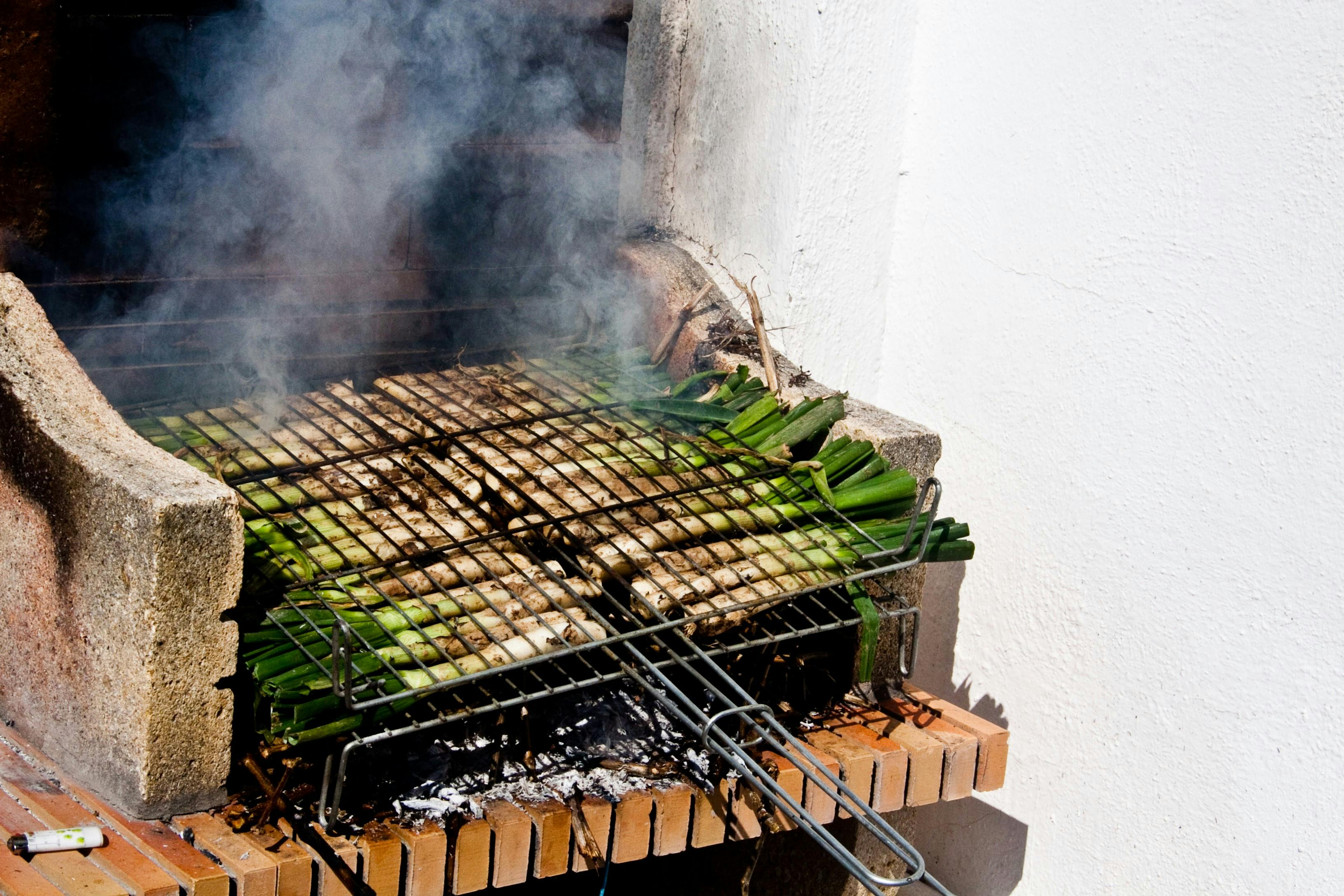 Join in a calçotada – an event dedicated to eating calçots – if you're in Barcelona during spring
Photo credits: 
Patatas Bravas: leoglenn_g via Visualhunt.com / CC BY 2.0
Gambas al ajillo: stu_spivack via  Visualhunt.com / CC BY-SA
Paella:  VisualHunt
Vermut: kerinin via  Visualhunt.com / CC BY-SA
Boquerones: fernand0 via Visualhunt.com / CC BY-SA
Calçots:  jbelluch via Visualhunt.com / CC BY-ND