One of Christmas' many charms lies in the holiday's diversity. Musement takes a look at 10 different Christmas desserts found across the world.
While Christmas dinner traditions may vary across the globe, there is one common ground you are likely to find everywhere: Dessert! Though the final course might not be the same on every table, it's customary to chase down one's Christmas dinner with a sweet bite (or two). Musement takes a look at ten Christmas desserts from around the world.
1) Panettone from Italy
This sweet bread is a Christmas delight typical of Northern Italy, particularly of Milan. Jewel-like studs of dried fruit adorn the inside of this wide, cylindrical mushroom-shaped-top confection, and creamy mascarpone is usually served on the side of your panettone slice, to which you can add as much or as little as you wish.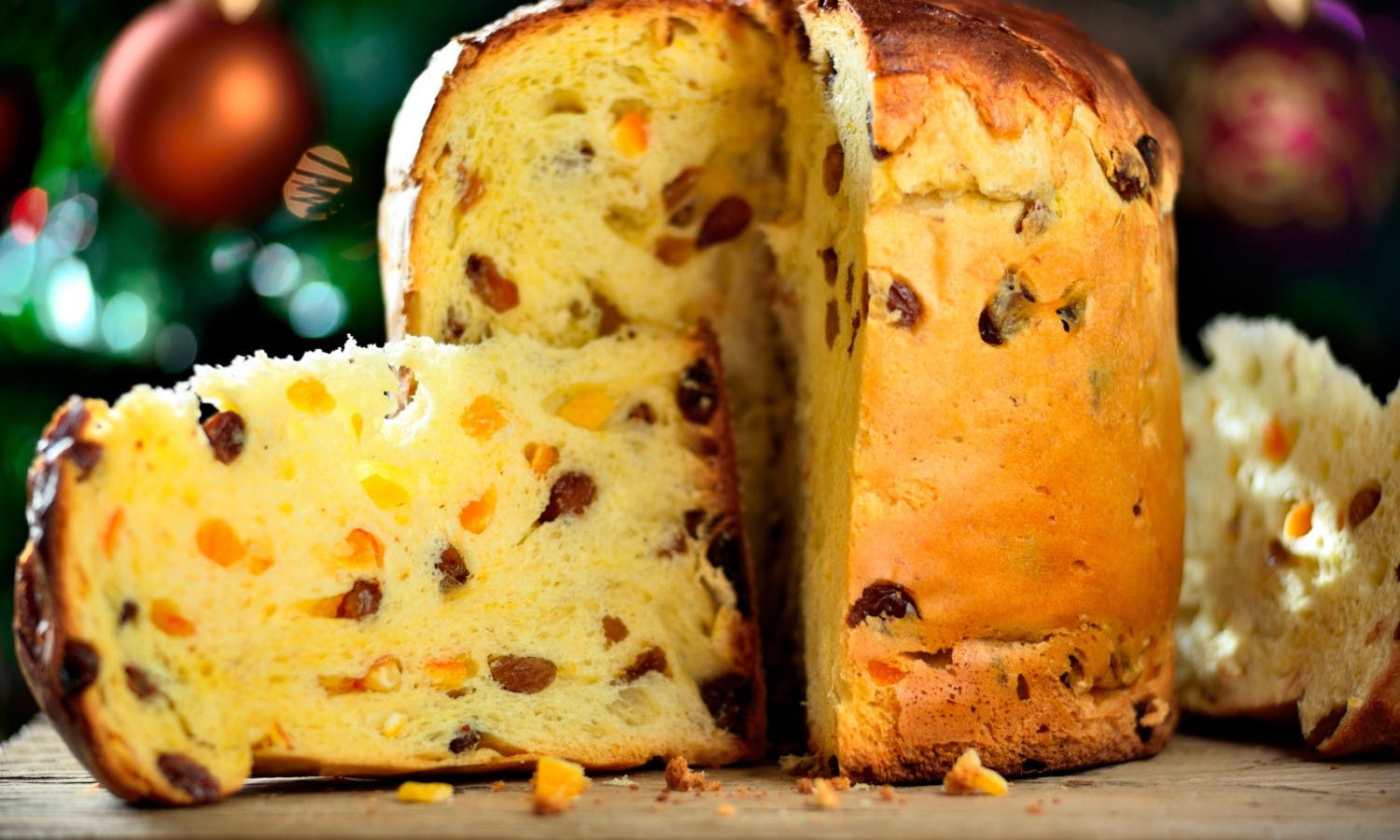 Panettone, a sweet bread typical of Northern Italy
2)  Stollen from Germany
Once November rolls around, the bakery windows of Berlin and other German cities all come alive with loaves of Stollen. This dense sweet bread that recalls an Irish soda bread usually has brandy-soaked raisins, currants and cherries baked into the dough, and it's topped with powdered sugar.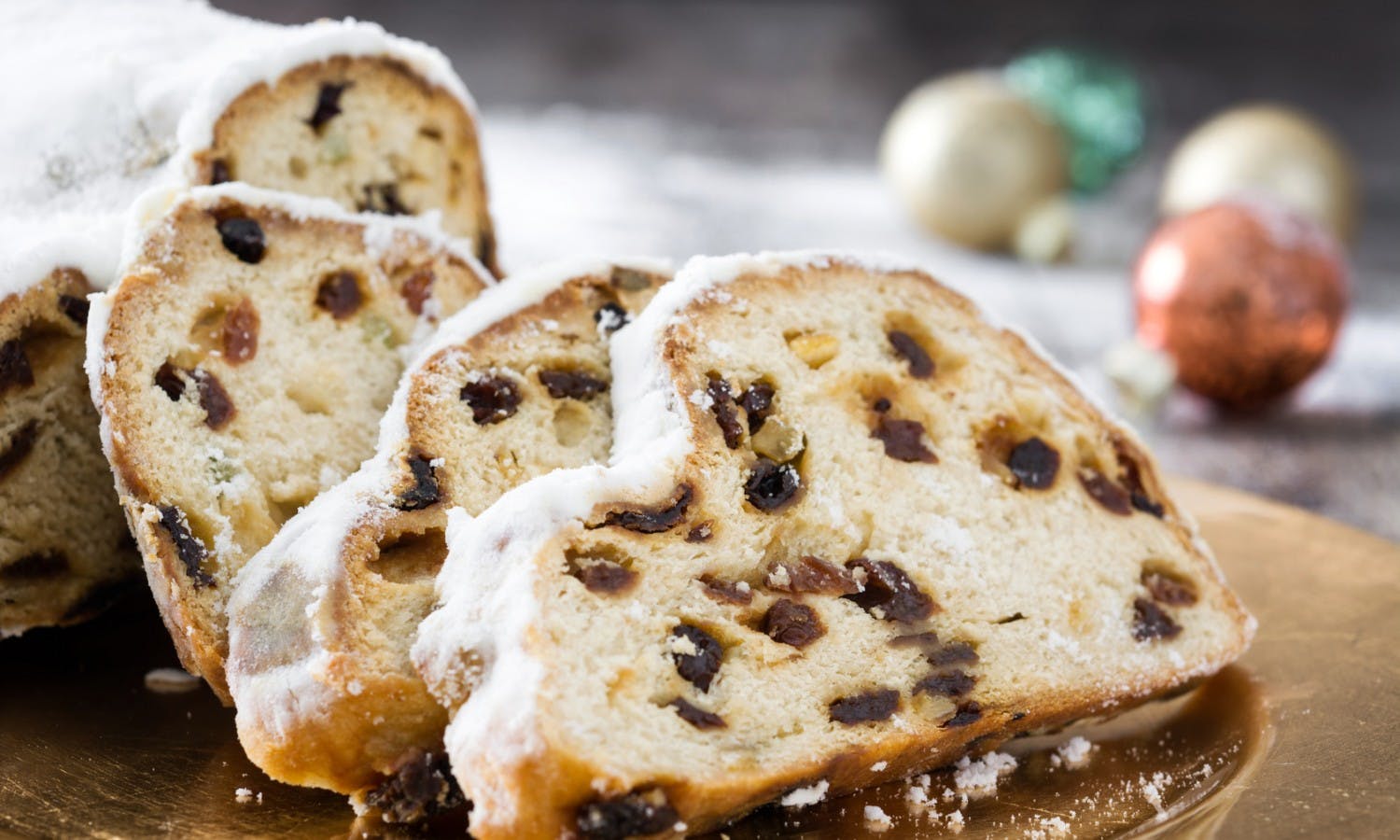 Stollen from Germany
3) Pan de Pascua from Chile
Despite its name translating literally to "Easter Bread", Pan de Pascua is Chile's traditional Christmas treat. Comprised of a honey and ginger sponge cake as well as nuts and candied fruits, Pan de Pascua is slightly reminiscent of the aforementioned panettone and stollen.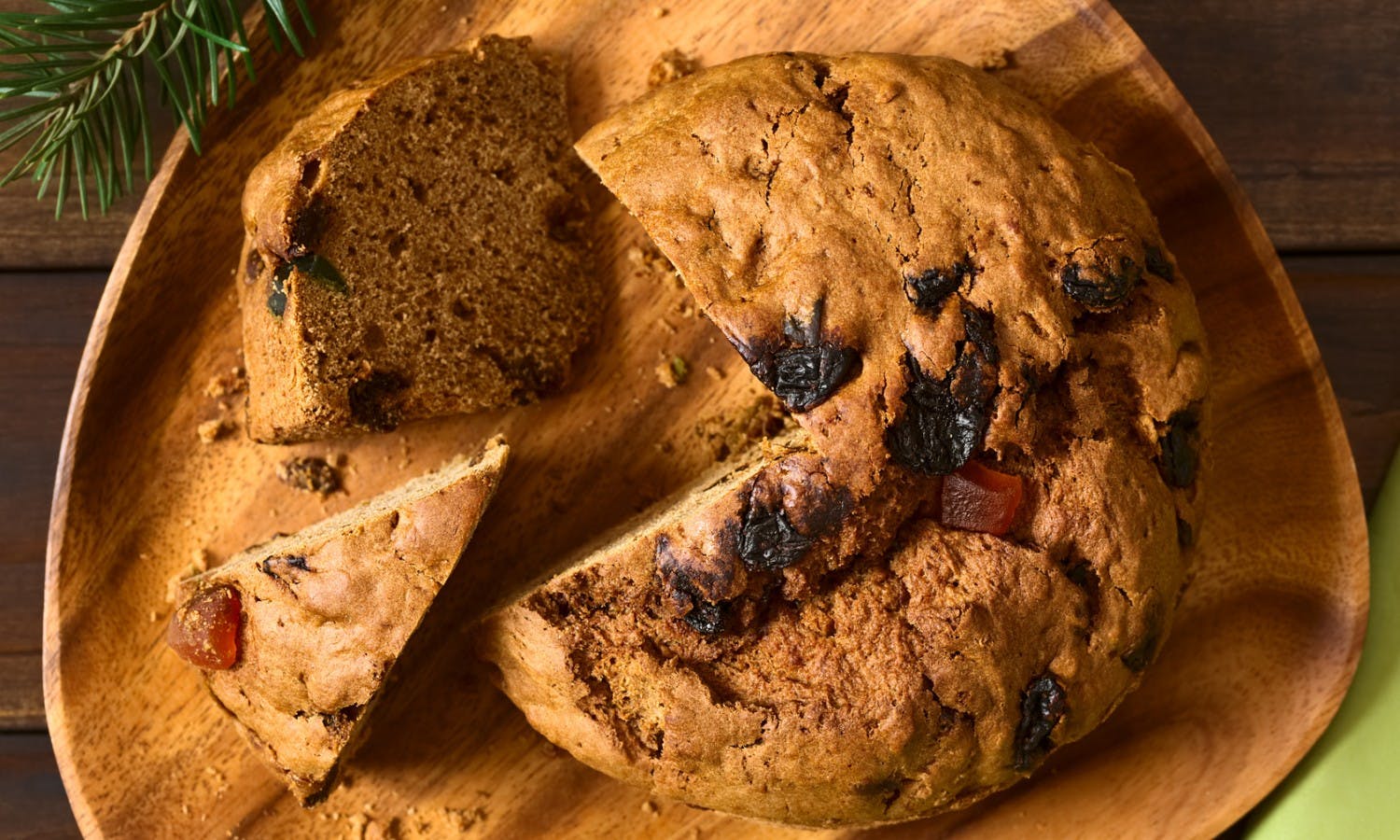 Pan de Pascua from Chile
4) Melomakarona, Greece
If you're in Athens once the holidays are underway, these walnut-topped Christmas cookies are likely to catch your eye. Melomakarona boast typical holiday spices like nutmeg, cloves and cinnamon, and have a soft, sweet center made of honey and orange zest.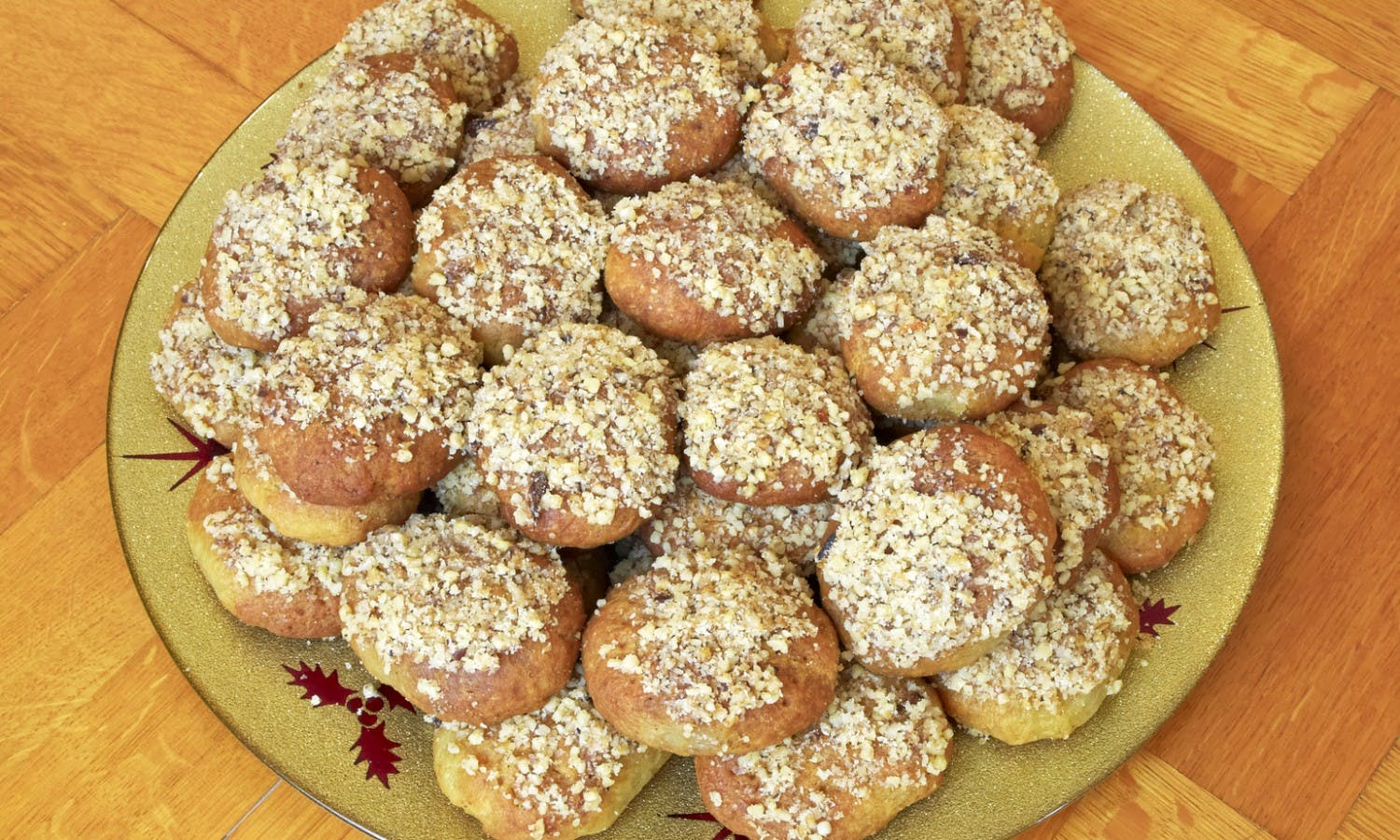 Melomakarona Christmas cookies from Greece
5) Saffransbullar from Sweden
If you're in Stockholm in December, you're likely to notice a particular S-shaped yellow bun. Saffransbullar, (also called lussebullar or lussekatter) are typical Swedish Christmas buns made with saffron. They are served not only on Christmas but also during Sunday advent gatherings as well as on St. Lucia Day (13 December).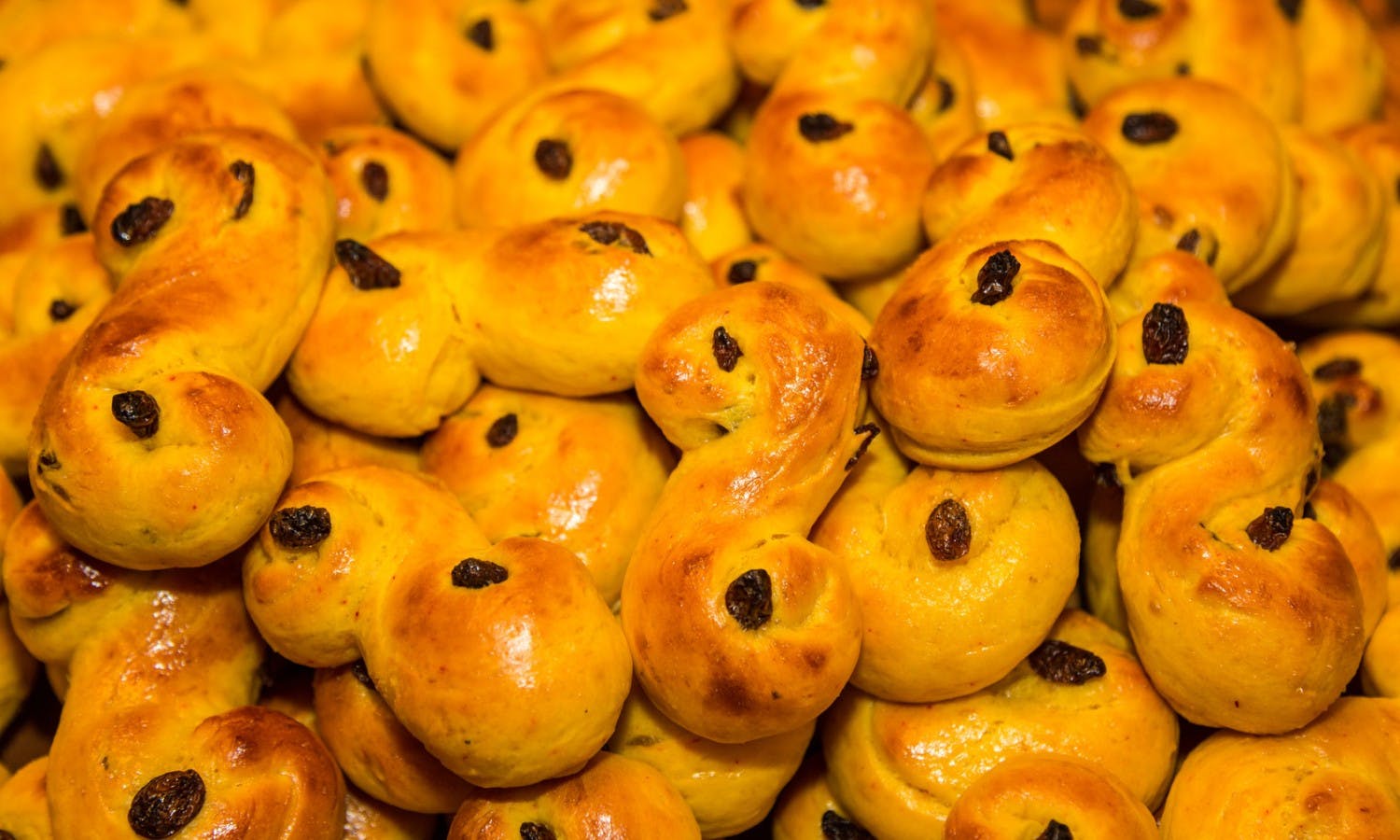 Saffransbullar
6) Buñuelos of Mexico
In Mexico, as well as other Latin American countries, you'll find families feasting on buñuelos after their Christmas dinner. These crispy fried tortilla-like pastries are either flat and pancake-shaped or more rounded and flowery, and they're always topped with cinnamon and sugar.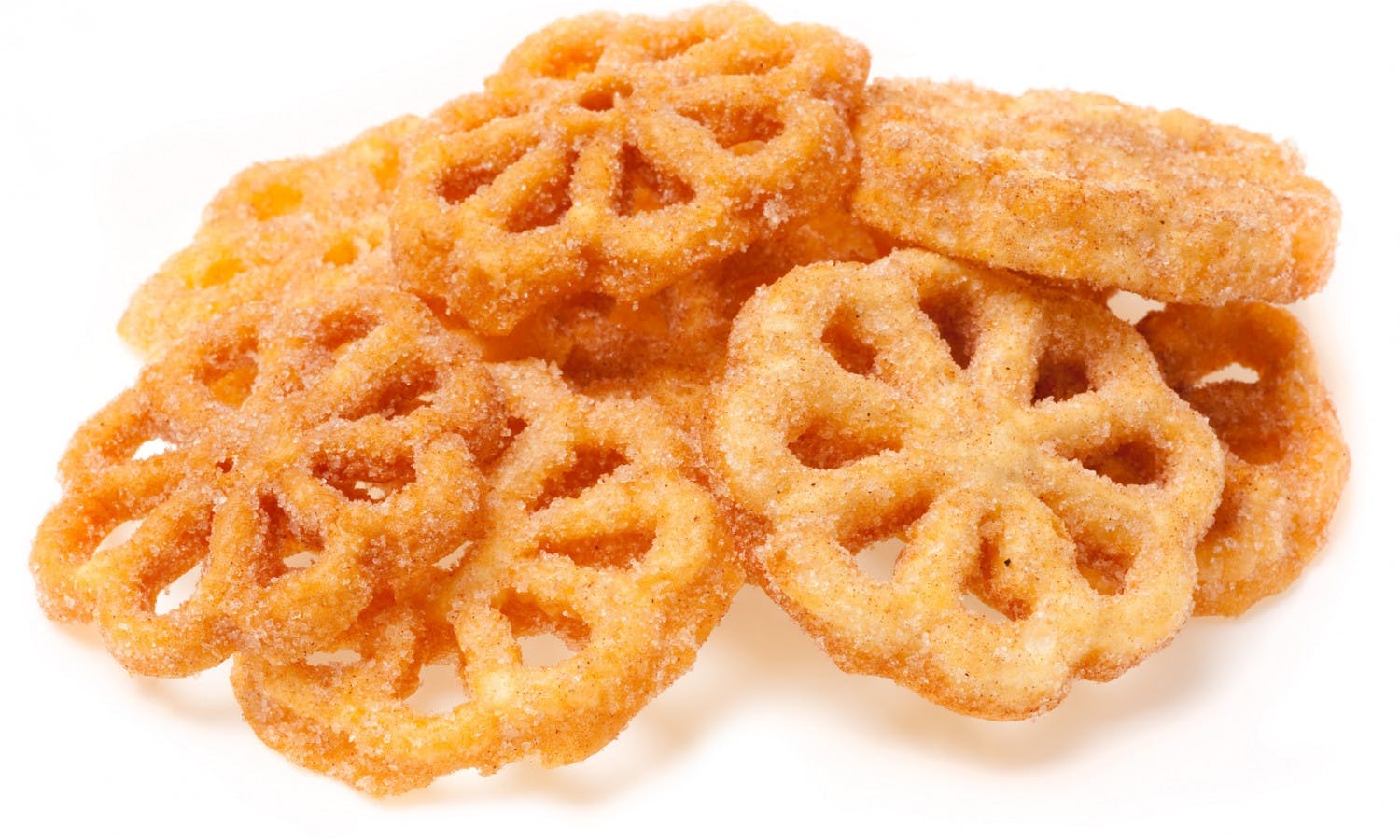 Buñuelos of Mexico
7) Piernik of Poland
Poland takes the Christmas season very seriously as can be seen by the tree and market in Krakow, and Piernik is the country's typical holiday dessert. Piernik means 'gingerbread' in Polish, and this particular type is more bread-like than the typical cake-like variety and filled with a plum jam that ferments for weeks, giving the dessert its signature taste.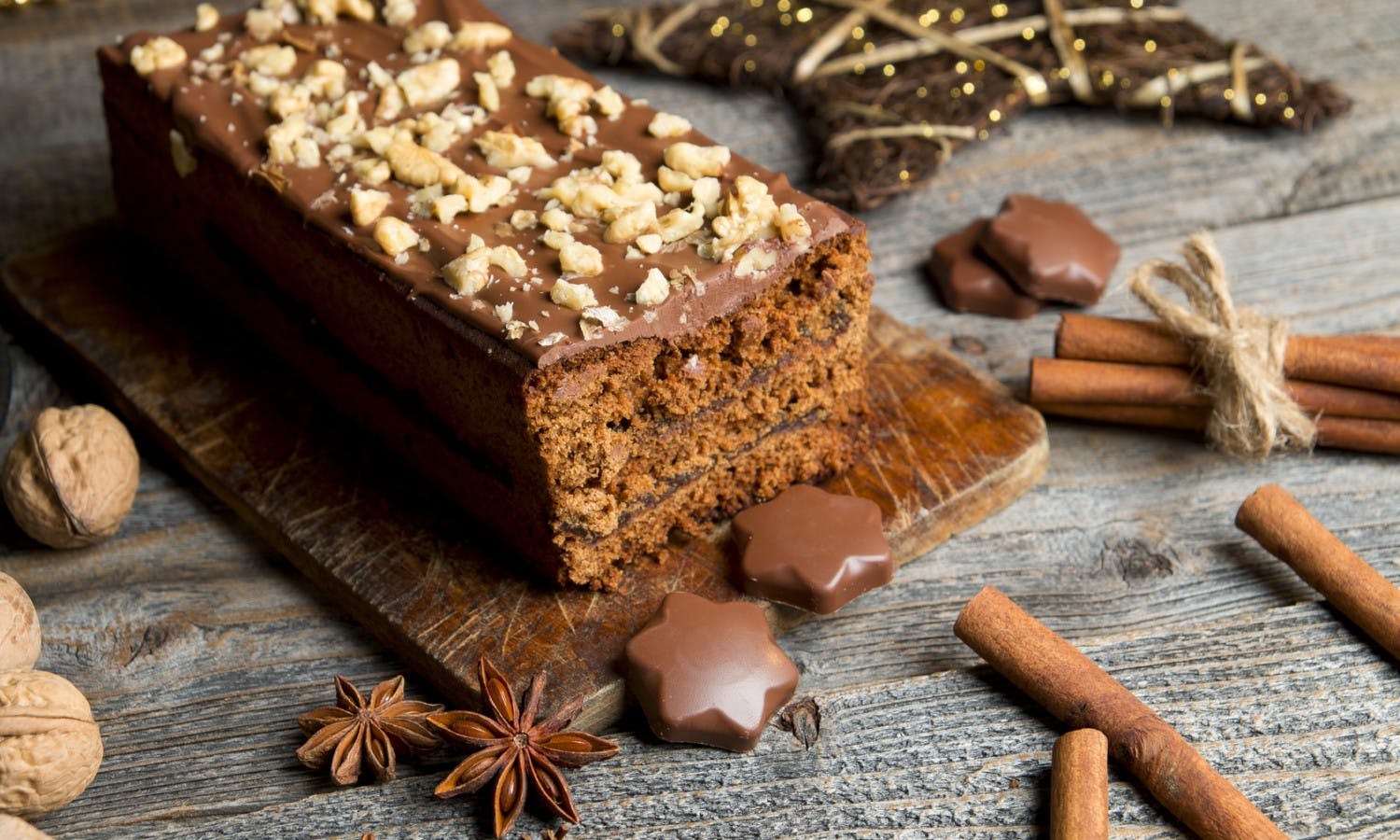 Piernik, a Polish gingerbread Christmas dessert
8)  Bûche de Noël of France
If you're walking along the streets of Paris, where the magic is enhanced during the Christmas season, you'll notice the Bûche de Noël, or Yule Log, in all of the pastry shop windows. This roulade is traditionally prepared with yellow sponge cake and chocolate buttercream, but there are many variations and iced to resemble a log.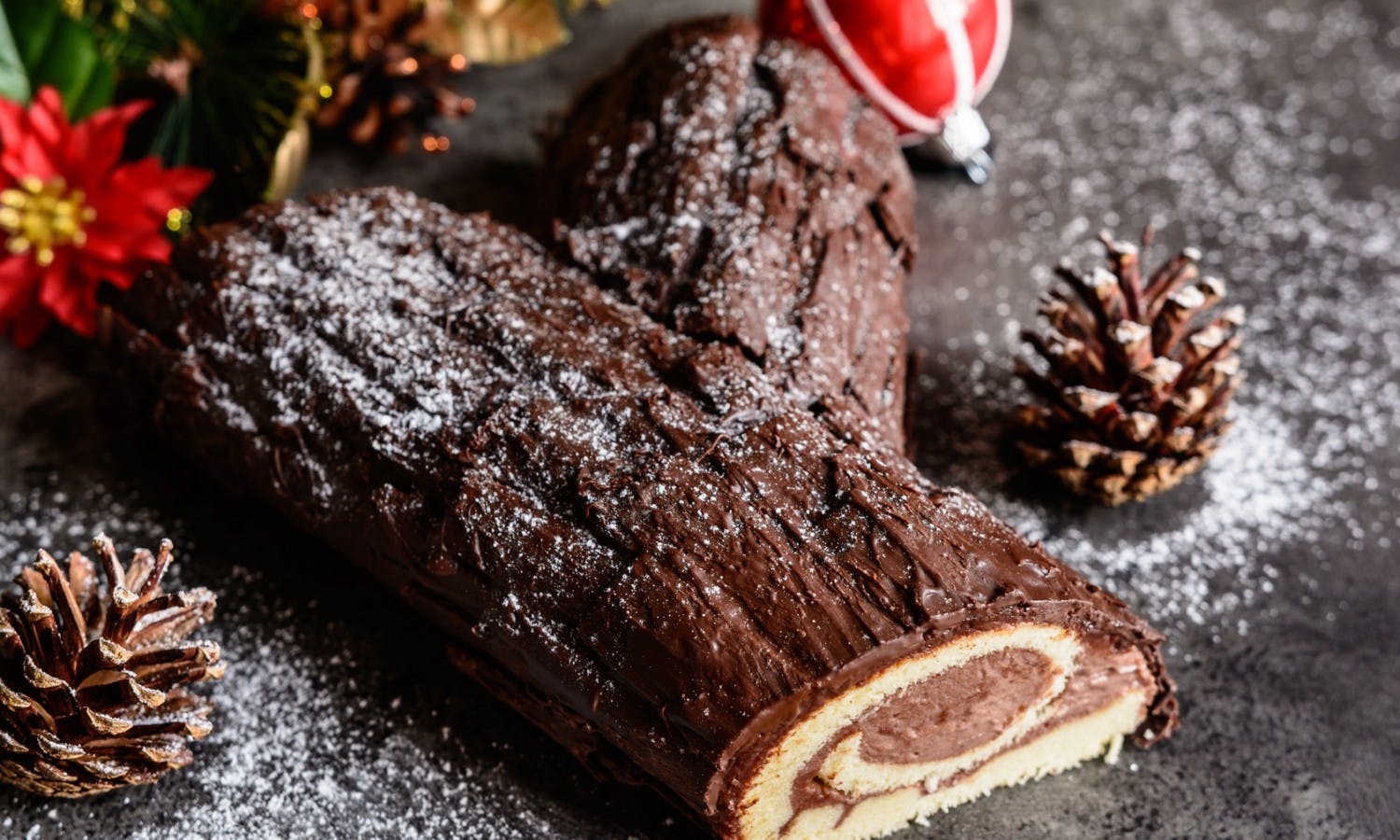 France's Bûche de Noël or Yule Log
9) Beigli of Hungary
Beigii is sweet roulade shaped bread typical of Hungary and it's usually filled with walnuts or poppy seeds, and at times, accompanied by apricot jam. You'll find these at the various bakeries and shops in Budapest and beyond.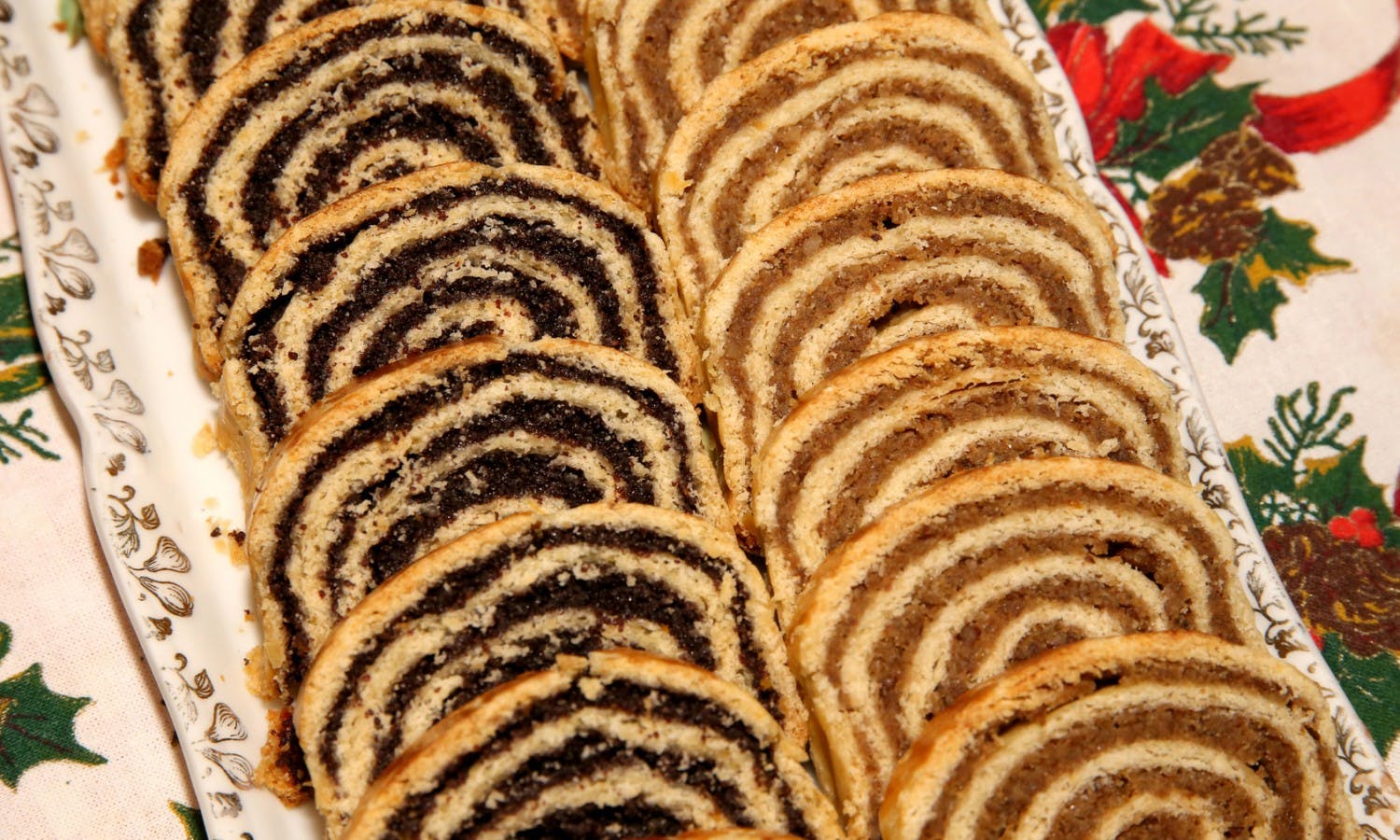 Beigli, a spiral Christmas cake typical of Hungary
10)  Banketstaaf of Holland
There's no better way to get into the holiday spirit in Amsterdam than with some Banketsaaf, a long, flaky log filled with almond paste.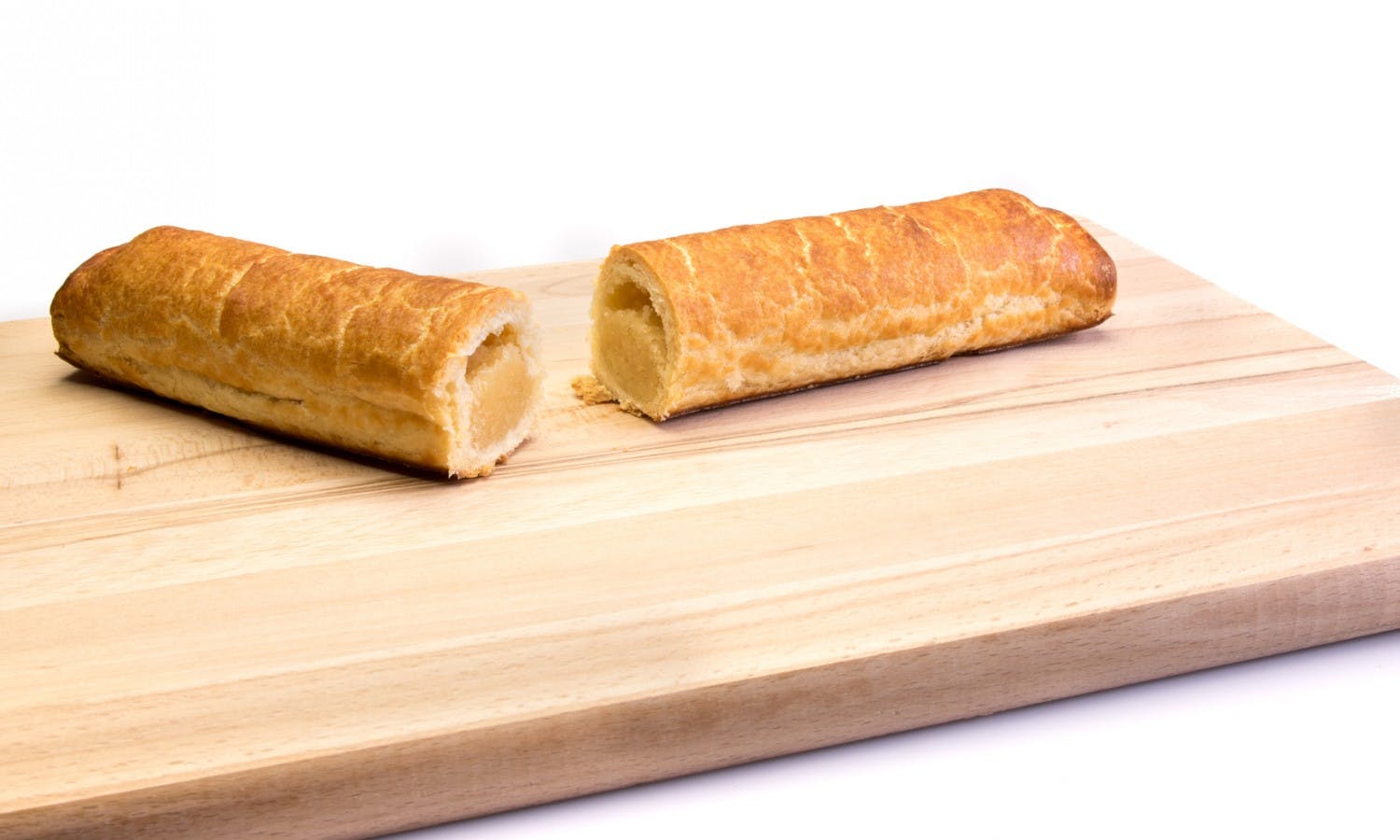 Banketstaaf